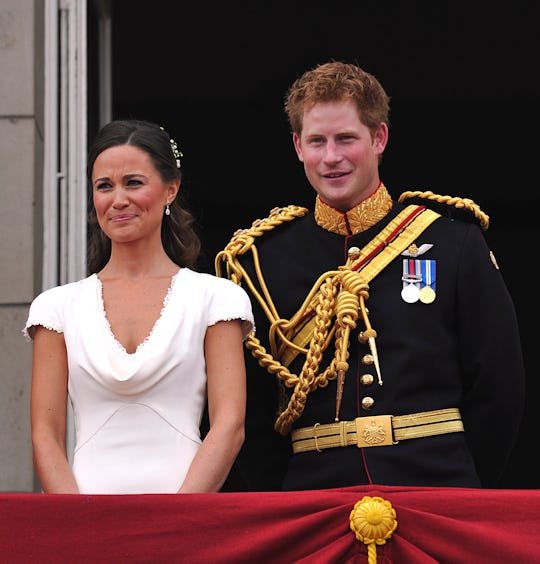 WPA Pool/Getty Images Entertainment/Getty Images
Is Reported Mom-To-Be Pippa Middleton Royalty? Here's What You Need To Know
Pippa Middleton has quite the cool life. She's married to a former race car driver, is a writer, and is reportedly expecting her first child with her husband James Matthews, due in October, according to The Sun. Not to mention, on top of all of this, her older sister (by less than two years), Kate Middleton, is married to the future King of England, Prince William. Yes, Pippa's brother-in-law is royalty. But just because she is related to royalty and rubs elbows with the royal family during holiday celebrations doesn't mean that Pippa Middleton is royalty herself. But surely, with a baby reportedly on the way, people are probably pretty curious about Pippa's title.
Romper's request for comment was not immediately returned, and a rep for Middleton declined to comment to People. Although the Middleton sisters' lives might seem pretty glamorous now — considering the circles they run in — they grew up like normal girls in England. Pippa, Kate, and their brother, James Middleton, all grew up in an English village named Berkshire, according to Town & Country, while their parents ran a "highly successful party planning business."
But the family isn't literal "royalty" — the Middletons would have to be related to the royal family by blood for that to happen, according to Town & Country, which means that Pippa isn't royalty. Still, Pippa and her family members rub elbows with the members of the royal family (and those involved in their inner circle) all the time, which sounds pretty cool to me.
But just because Pippa isn't in the British royal family doesn't mean that she doesn't know what it's like to be royalty. And in the next few years, she will get a first look at how intense being a royal can be when her sister steps up to a new role.
When Duchess Kate married Prince William in 2011, according to The Sun, she took on the fact that knowing one day, she could one day be married to the King of England. But when Prince William does inherit the title (he's second in line for the throne, after his dad, Prince Charles), Kate won't be the queen — she'll hold the title of "Queen Consort," according to The Sun. Currently, Kate holds the title of Her Royal Highness the Duchess of Cambridge, according to The Sun, but will never be considered a "princess" since she wasn't born into the family, only married into it.
So, Pippa isn't royalty, but that doesn't mean that she won't inherit a title herself. Pippa's husband's father, David Matthews, holds the Scottish title, Laird of Glen Affric, according to Entertainment Tonight. When David passes, that title will be passed on to David's firstborn son, who is Pippa's husband, James. This means, according to Entertainment Tonight, Pippa will become the Lady of Glen Affric. How's that for an official title?
Although she might be lacking that elusive title of "royal family member," Pippa is friends with members of the royal family (not including her sister). Pippa and Prince Harry have known each other for 10 years, according to Town & Country, have many of the same friends, and get along very well. Pippa's old flatmate, George Percy, will be a duke one day and inherit his own castle, the Alnwick Castle, where the Harry Potter movies were filmed. Pippa certainly has received some perks because of her proximity to royalty, according to Vanity Fair, attending events with her sister that she might not otherwise get to without her title.
While Pippa isn't *technically* a part of the royal family, this is still a super exciting time in the lives of royal family watchers. With Kate due to give birth any day, according to The Telegraph, Prince Harry set to wed his fiancé, Meghan Markle, next month, and Pippa reportedly pregnant, there is certainly a lot to look forward to.
Check out Romper's new video series, Bearing The Motherload, where disagreeing parents from different sides of an issue sit down with a mediator and talk about how to support (and not judge) each other's parenting perspectives. New episodes air Mondays on Facebook.