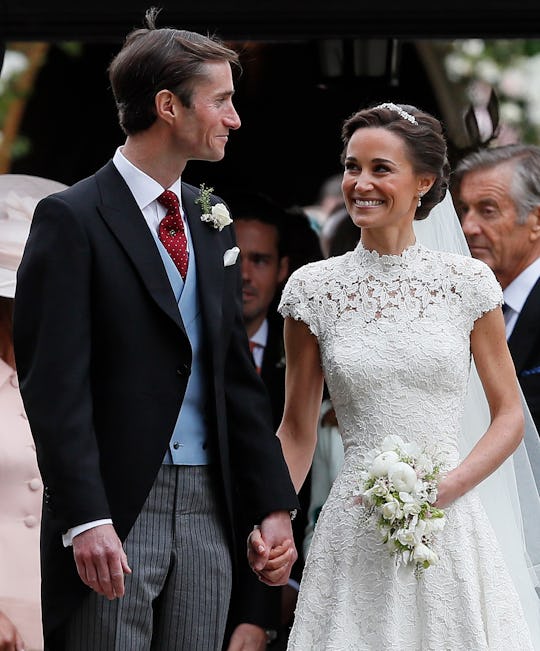 WPA Pool/Getty Images Entertainment/Getty Images
Kate Middleton's Sister Pippa Has Welcomed A Healthy Baby Boy — But Is He Royal?
There's a lot happening for the royal family. Between weddings, pregnancy announcements, and births, it's been a really eventful year. On Monday, Pippa Middleton, Duchess of Cambridge Kate Middleton's sister, gave birth to her first child with James Matthews. Though so many questions are still swirling (what is his name?!), many may be wondering whether or not he'll receive a title because of his mother's relation to the Duchess of Cambridge. So is Pippa Middleton's baby royal?
Here's the simple answer: Because Pippa's newborn son is not directly in line to the throne, he will not be given a title, according to Express. Only those who are related by blood or marriage to those in line to rule as king or queen receive royal status. That's why Kate Middleton's kids are princes and princesses. However, as Pippa is not a candidate for the throne, neither are her children. As Express reported, their technical titles would just be Master or Miss Matthews, as anyone else.
Early this morning, a representative for the Middleton family confirmed the news of the child's birth to USA Today. "He was born Monday (October 15th) at 1:58 p.m., weighing 8 (pounds) and 9 (ounces)," a spokesperson for them told the news outlet. Later, Kensington Palace issued a statement, announcing that Prince William and Kate Middleton are "thrilled" for Pippa and James.
The newest member of the Middleton-Matthews clan was welcomed only a day after another royal announced her own pregnancy as well. Meghan Markle confirmed via a statement from Kensington Palace that she and Prince Harry are expecting their first child in the spring of 2019, as ABC News reported.
Of course, word of another royal baby to join cousins Prince George, Princess Charlotte and Prince Louis is beyond exciting, especially for those who had been speculating that Markle was pregnant for a few months now. (There was even one interesting theory that posited Markle's recent debut of straight hair was actually a sign she was expecting, as Kate Middleton has changed her hair right before every one of her baby announcements, possibly to create a distraction, as Cosmopolitan reported.)
Earlier today, Prince Harry addressed Markle's pregnancy for the first time in a speech, as Page Six reported. "It's great to be back in Australia, and especially even more so, this is my wife's first trip here, so I'm very excited to show her this incredible country of yours," he said. "We also, genuinely, couldn't think of a better place to announce, uh, the upcoming baby, be it a boy or girl, so thank you very much."
It seems that just as much as Prince Harry and Duchess Meghan will be well-prepared for parenthood, as were Pippa and James.
Earlier this year, Pippa announced her pregnancy by penning a column for a UK-based magazine, in which she shared some of her favorite exercises for staying healthy while pregnant. "I'm fanatical about sport and have looked at loads of books and websites on exercise during pregnancy but have been disappointed by the limited technical information on what you can and can't do. And this being my first pregnancy, I had so many questions I felt were still unanswered," she wrote, according to Us Weekly.
Now that the baby is finally here, it's safe to say that Pippa will likely stay up-to-date on her health and well-being regiments, though it's anyone's guess whether or not she'll write another op-ed to share them with the world.
As of Tuesday morning, neither Pippa nor James have made any exclusive comments regarding their son's birth, nor have they revealed his name. But, as with all things royal (or royal adjacent), it's likely only a matter of time.