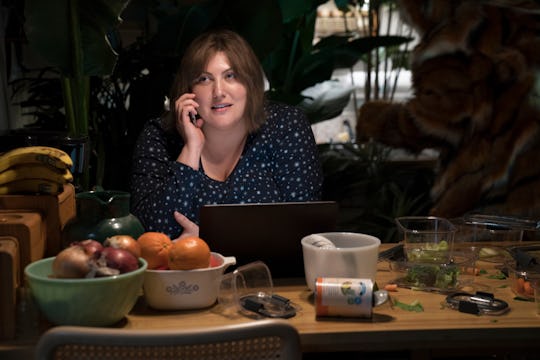 Patrick Harbron/AMC
Is Plum Kettle From 'Dietland' Based On A Real Person?
AMC's new series, Dietland, stars Joy Nash as Plum Kettle, a ghostwriter at one of New York's best fashion magazines, Daisy Chain. Working at a magazine that has a strong focus on what beauty is, Plum struggles with her own body image and figuring out where she fits in this world. Plum is certainly a relatable character and it's easy to wonder if Plum is based on a real person.
Plum is actually based on the main character in the book of the same name by Sarai Walker. In the novel, Plum's job was to answer fan mail for a teen magazine, a job she was doing while waiting to get weight-loss surgery. Though she's working at a different type of magazine in the show, it's the same premise. Plum answers the letters to the editor of Daisy Chain, Kitty Montgomery (Julianna Margulies).
Also in the novel, Plum is pulled into a group called Calliope House after a woman in combat boots and rainbow tights begins following her. Calliope House is an underground community of women who reject society's rules and the group helps Plum confront what society has deemed as "beautiful." At the same time, a guerilla group, known as the "Jennifers" in the show, begins terrorizing a world that mistreats women. The way this happens in the TV series is men who've been accused of sexual assault and abuse are violently murdered.
While there are some differences between the book and the show, Plum's character pretty much remains the same. Based on the trailer for the series, Plum will begin to confront the things she doesn't like about herself while also being sucked into the sinister schemes of the Jennifers. That being said, the show won't just show Plum's fight against the world's beauty standards. Her boss, Kitty, has her own battles to face as she struggles against aging, believing it to be her enemy.
The new series has already garnered a lot of praise and is being seen as the perfect show during this current era of the #MeToo and #TimesUp movement. The show, which is created by and starring women, shows what women struggle against on a day to day basis, both with their looks and with the sexual abuses and objectifications they face from men. While the dark comedy will certainly provide viewers with some laughs, it'll also spark a conversation about the issues women face in society today.
The series was created by Emmy-nominee Marti Noxon, who's worked on a number of other incredible series, like UnREAL, Buffy the Vampire Slayer, Mad Men, Glee, and more. Marguiles, who received an Emmy and Golden Globe for her work on The Good Wife, is perfect for the role of Kitty and, according to critics, she shines in the role. Along with Marguiles and Nash, the show also features Adam Rothenberg as Dominic; Tamara Tunie as Julie; Will Seefried as Ben; and Ami Sheth as Sana. Thus, Dietland has a great team, both on and off screen. It's no wonder the show is already shaping up to be a massive hit.
The first season contains 10 hour long episodes, and though it hasn't been renewed for a second season just yet, it wouldn't be surprising if it got an early renewal. This could very well be another hit for AMC, which has primarily succeeded in more male dominated series like Mad Men, The Walking Dead, and Breaking Bad. Hopefully, this will lead to more female driven stories told on channel in the future.
Dietland premieres on AMC on Monday night at 9 p.m. EST. You won't want to miss it!