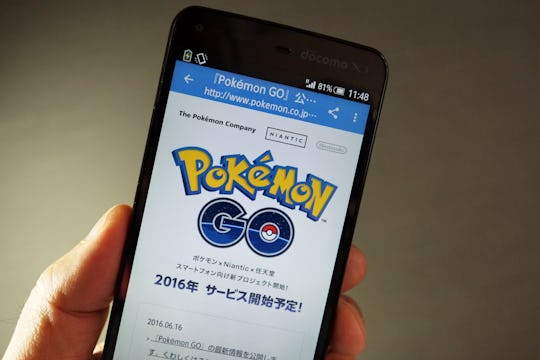 KAZUHIRO NOGI/AFP/Getty Images
Is "Pokemon Go" Safe For 5-Year-Olds To Play? Supervision Is Key
Everyone is either playing or talking about the new virtual scavenger hunt game "Pokemon Go" and it's not just adults who are in on the fun. Kids and teens are also pretty psyched about the mobile app. Its popularity can probably be equated to the overall object of the game, which is to walk around outside and look for Pokemon in real-life locations by using GPS tracking — such as parks, schools, restaurants, and malls — and catch as many as you can. It's both fun and active and grown ups are loving it. But, what about the little ones? Is "Pokemon Go" safe for 5-year-olds to play? The game may be suitable for all ages, but there are a few things parents should consider before heading out to catch Pokemon with their tot.
"Pokemon Go" is categorized as a location-based augmented reality game, which requires you physically walk around and leave your home to catch the adorably animated creatures. That's one of its wonderful features, people are out of their houses, enjoying fresh air as they explore their towns and cities. But, it tends to capture your attention perhaps a bit too much, which has led to some people into some scary situations, like getting robbed or hit by cars.
So, if your five-year-old is begging you to download "Pokemon Go," you may just need to create a specific gaming plan that would work well for your family.
Common Sense Media — the world's largest collection of ratings and reviews of media content aimed at kids to inform parents — recommends that "Pokemon Go" is suitable for kids who are 13 years-old and up, noting that it carries privacy and safety issues.
One parent with a six-year-old child reviewed the game on Common Sense Media and wrote that it's been a great family experience.
"There are so many positive benefits to this game that I believe they outweigh the issues noted by others," the reviewer wrote on the site. "That said, I'm not sending my kids out to play by themselves – we're doing it together, walking the neighbourhood and taking turns to "catch 'em all" and enjoying ourselves."
"If your kid is going to play Pokémon Go, it's important to have a conversation to highlight safety precautions," app editor for Common Sense Media Christine Elgersma told Today's Parent. "Make sure your kids are aware of their location and their surroundings."
Today's Parent recommends playing the game as a family. Plan time to walk around with your little one while they use your phone and catch Pokemon together. Or, if it's a possibility, you could also try to arrange time to get together with other parents and their kids to hunt for the little cartoon monsters, which could create a friendly competition to see who can catch the most.
"Pokemon Go" can be very distracting, so making sure your little one is supervised will help alleviate some worries that they may wander into danger. Heading outside to catch Pokemon with your kids won't only be beneficial for them – Parents can also get in on the fun while getting a little exercise and spending time as a family.