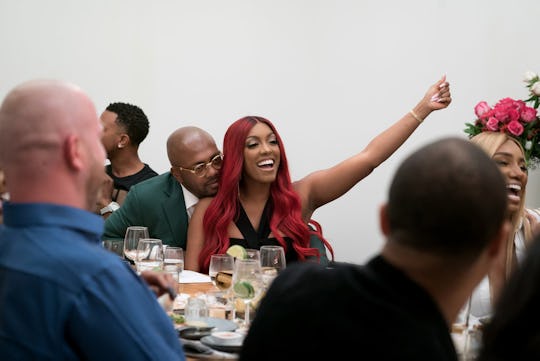 Annette Brown/Bravo
Porsha Williams Has A Lot To Celebrate On 'RHOA'
Porsha Williams has been a Real Housewives of Atlanta fan favorite for years, and despite all the shady rumors surrounding her new man, Dennis McKinley, viewers are thrilled to see her so happy. On the latest episode of RHOA, the couple revealed that they were expecting their first child together, but they might have another happy celebration to look forward to as well. So is Porsha Williams engaged?
It looks like Porsha will be walking down the aisle soon, because according to People, Dennis proposed to her back in October. After months of planning, Dennis surprised Porsha with an elaborate proposal, which included a performance from her favorite singer, Lil' Mo. "Dennis rented out a venue and took Porsha via helicopter there, [there were] candles and rose petals everywhere," her rep told People. "After they were officially engaged, they threw a prayer party for Baby McKinley."
After struggling to get pregnant for years, Porsha is beyond thrilled that she's going to be a new mom. In an interview with People, she revealed that she has suffered from fibroids and a miscarriage, so her pregnancy comes with lots of joy, but a little fear as well. But she says that those emotions have helped make her relationship with Dennis much stronger, and because this is a first baby for both of them, their mutual love and excitement has strengthened their bond.
"The pregnancy came from the left, but it definitely has brought us closer together because you realize when it sets in that you are actually bringing a life to this world, that you have become family overnight," she told People. "So now a lot of the things that we had talked about are a reality, and we work really hard at wanting to be a good couple and build a strong foundation for our new family that we're going to have. "
Amidst all the pregnancy excitement, Porsha must have been over the moon when Dennis finally proposed. On her Instagram page, she shared her happiness with photos from the engagement, showing off her huge diamond engagement ring. "I said YES..." she wrote on the series of posts, adding, "Matter of fact I said HELL YESSSS lol!! Love you baby #DM. I'm ready for the rest of our life!"
On RHOA — which was taped over the summer before her engagement — Porsha has been facing some push back over her relationship with Dennis. In Episode 5, aptly titled "Tatted Tales," Kandi Burruss is having lunch with a few of the other housewives and reveals that she knew some things about Dennis, but wasn't comfortable sharing them with Porsha directly. "I don't know him personally, he's dated a few different women I know," said Kandi, with Nene Leakes further questioning if those relationships were just casual or serious. "I mean, he tattooed their names on him," she said, also revealing that he had given these other women Rolex watches, and gave one to Porsha as well.
But when Porsha finally confronted Kandi over dinner with the other housewives, she let everyone know exactly where she stood. She told them that Dennis' past relationships didn't make a difference to her, and revealed that he had gotten a tattoo of her name as well. "I'm happy about him, I was excited he got the tattoo," said Porsha. "If there's anything about him from before I met him, I could care less. He has been single for all this time, and he falls hard, so he may get a tattoo." While her castmates were shocked to hear her level of comfortability with the whole tattoo situation, Porsha maintained that her relationship was her business, and she is fine with Dennis just the way he is.
With that level of love and loyalty, I have a feeling Dennis and Porsha are going to have a strong marriage going forward, and I know that most RHOA fans are wishing them nothing but happiness.
Real Housewives of Atlanta airs new episodes on Sundays at 8 p.m. ET on Bravo.
This first-time mom wants to have a home birth, but is she ready? Watch how a doula supports a military mom who's determined to have a home birth in Episode One of Romper's Doula Diaries, Season Two, below. Visit Bustle Digital Group's YouTube page for the next three episodes, launching Mondays in December.