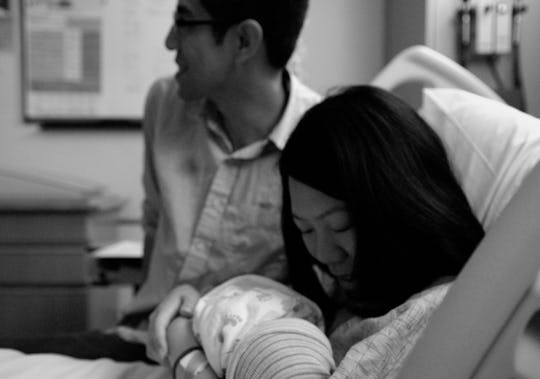 George Ruiz/Flickr
Is Postpartum Bleeding Common? 7 Ways To Deal With The Worst Period Ever
One of the (few?) nice things about pregnancy is that you have a temporary reprieve from periods. Regardless of the fact that I've been shedding my uterine lining for more than 15 years, it never really gets any more pleasant. What they don't warn you about, however, is that you pay for those skipped periods with a little something called lochia, also known as postpartum bleeding (which I also not-so-lovingly referred to as The Worst Period Of My Life.) Postpartum bleeding is quite common and will leave most moms seeing red — literally — for the first few weeks of their child's life.
According to BabyCenter, lochia is postpartum vaginal discharge that consists of blood, tissue shed from the lining of the uterus, and bacteria. Most of this blood comes from where the placenta was attached to the uterine wall. In the first few days after childbirth, this lochia will be bright red and look just like a very heavy period. By day 10, the lochia should have gone from red to pink to brown to yellowish white, and should stop completely by four to six weeks postpartum.
If you notice blood clots larger than a golf ball or you're changing pads every hour, call your doctor, as you might have a postpartum hemorrhage. If your postpartum bleeding has a bad smell or you have a fever, it could be a sign of an infection and you should also call your doctor.
But if you're just experiencing a beyond heavy flow, there are a few things you can do to manage the discharge. Here are just some ways to cope with the period from hell, to maximize healing and minimize bleeding.