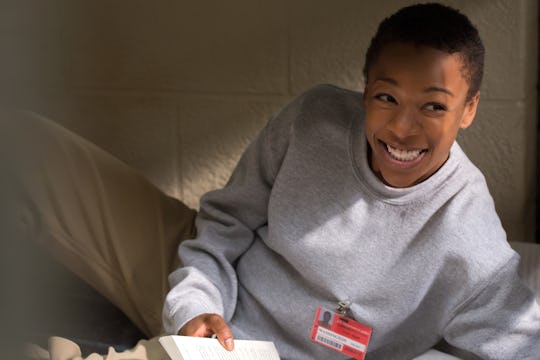 JoJo Whilden/Netflix
Fans Desperately Miss This 'Orange Is The New Black' Character
One thing I love about Orange is the New Black is its ensemble cast. The Netflix series is easily one of the most diverse shows on television, not to mention the most obviously women-centric. Part of the show's appeal lies in the fact that it's slowly built up its ancillary characters to have greater and greater importance, with some arguably eclipsing even the de facto main character, Piper Chapman. One of those characters was Poussey, who met a tragic fate in Season 4. Despite that, many are still wondering: Is Poussey in Orange is the New Black Season 5?
As you'll recall, Poussey (played by Samira Wiley) unexpectedly died in the penultimate episode of Season 4, when a peaceful protest by the inmates against their mistreatment by the correctional officers rapidly escalated into violence. In the fracas (and amid Suzanne's freak-out), Poussey was caught in the middle and wound up pinned down by C.O. Bayley. Bayley used excessive force to hold Poussey down, and she died quickly, sending shockwaves of rage and grief throughout Litchfield.
OITNB isn't the type of show that would ever bring a character back to life, so Poussey will definitely stay dead. Unsurprisingly, she doesn't appear in the trailer for the new season, though her presence is felt throughout. In fact, despite her death, she's arguably still the central figure of Season 5 — it's her killing and the lack of justice for her death that propel Taystee to start up a prison riot at the end of Season 4. The new, 13-episode season will take place over the course of just three days during the prison-wide riot. Warning: Episode 6 spoilers ahead!
That being said — while Poussey can no longer show up in any present-day scenes, she does end up making a surprise cameo in Episode 6 during a flashback of Taystee's life soon after she arrived at Litchfield. Fans are able to see the very moment these two BFFs met each other, and surprise! — it was in the library. It was a short scene, but I think I speak for all fans when I say that it was extremely emotional. (Sobbing may or may not have occurred.)
Wiley is currently starring in Hulu's The Handmaid's Tale, which has already been picked up for a second season. But it was nice that was she willing and able to return to her old stomping grounds for this sweet-yet-heartbreaking moment. Just seeing Taystee and Poussey together again was enough to send everyone reaching for one or two (or 10) tissues.
But that isn't the only way you can see these two beloved characters reunite. Viewers who want to get more of Wiley's fan-favorite character can also watch Netflix's hilarious (and also kinda heartbreaking) Orange is the New Black Mirror parody on repeat as well.
The odds of Poussey showing up again during Season 5 is probably pretty slim, but at least we have this scene to hold onto moving forward. And honestly, that's more than I thought we were going to get.
Orange is the New Black returns Season 5 is now available for streaming.