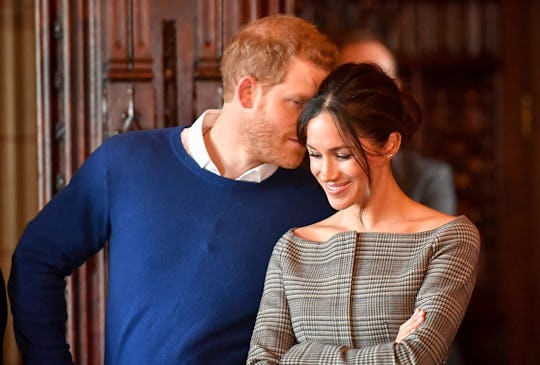 WPA Pool/Getty Images Entertainment/Getty Images
Meghan Markle Just Set The Record Straight On Whether Prince Harry Is A Feminist
Meghan Markle is an extraordinary woman. Not only is she a successful actress — most well known for her role on Suits — but she's also used her platform for good and has been regarded as both a powerful feminist and an advocate for equal rights. So, now that she's marrying someone in the royal family, you may be wondering whether Prince Harry is a feminist, too. People can't seem to get enough of the newly engaged couple and Markle just gave their devoted fans yet another reason to be totally obsessed with them.
Although Prince Harry's royal family history may err on the side of overwhelmingly traditional and patriarchal, Markle has assured one (extremely lucky) person that her future husband is totally a feminist, as People reported. That's right folks, if you weren't already a fan of Prince Harry, then I'm about to make you one. When a fan approached Markle on Thursday, she expressed her gratitude towards the former Suits star about her passion for gender equality. And instead of Markle simply thanking the fan, she also let her in on a little secret.
"He's a feminist too, so there's that," Markle reportedly told a 23-year-old woman named Jessica Phillips, according to People. Sure, Phillips probably didn't expect her simple and quick interaction with Markle to turn into international news, but that's exactly what happened.
As can be seen in the clip above, Markle went out of her way to stop and talk to fans outside while she was on her first visit to Cardiff, Wales, where she and Prince Harry met with crowds of people "who waited to greet them outside Cardiff Castle," according to People. Some might think that Markle only stopped to talk to the masses for photo ops, but I'm going to go ahead and guess that she's a little (OK, a lot) more genuine than that.
Seriously, Phillips merely told Markle that she was so happy to know that the royal family was gaining someone who is so passionate about women's rights and feminism. Speaking to People, Phillips explained, "I said it was really lovely to have a feminist in the royal family, and she said Harry is a feminist too."
This appears to be the first time someone close to Prince Harry has confirmed that the 33-year-old royal is indeed a feminist. But Markle's confirmation wasn't entirely shocking, since many of Prince Harry's actions and speeches make it clear he's a firm believer in equality. For example, Prince Harry has been involved in a number of charities and programs with missions to empower girls and children everywhere. During a speech in Katmandu, Nepal in March 2016, according to the Royal Household, Prince Harry spoke about the inequalities faced by women and girls all over the world, saying:
While the unique challenges faced by girls is not a topic I have spoken much about in the past, I think it's important to acknowledge something that has become obvious to me and is already known to everyone in this room: there are way too many obstacles between girls and the opportunities they deserve. ... Whether it's a girl in Lesotho living with HIV; or the talented young woman in Britain who doesn't get taken seriously because of where she grew up; or the 14 year old girl forced out of school so she can get married here in Nepal; we need to acknowledge that so many countries and cultures are failing to protect the opportunities of young women and girls in the way they do for boys.
Prince Harry has also used his position to defend his wife-to-be when they first made their relationship public and a lot of trolls out there made some pretty awful comments about Markle's race and ethnicity. In November 2016, Prince released a statement through Kensington Palace to call out those trolls and everything that was wrong with the hateful speech they were spreading:
His girlfriend, Meghan Markle, has been subject to a wave of abuse and harassment. Some of this has been very public - the smear on the front page of a national newspaper; the racial undertones of comment pieces; and the outright sexism and racism of social media trolls and web article comments.
Additionally, Prince Harry's statement expressed his wishes that people would stop harassing Markle. "This is not a game - it is her life and his," the statement read.
Clearly, Prince Harry and Markle are on the same page when it comes to many important things in life and with two outspoken feminists in the royal family, the rest of the world couldn't be more on board with this power couple.
Check out Romper's new video series, Romper's Doula Diaries:
Watch full episodes of Romper's Doula Diaries on Facebook Watch.