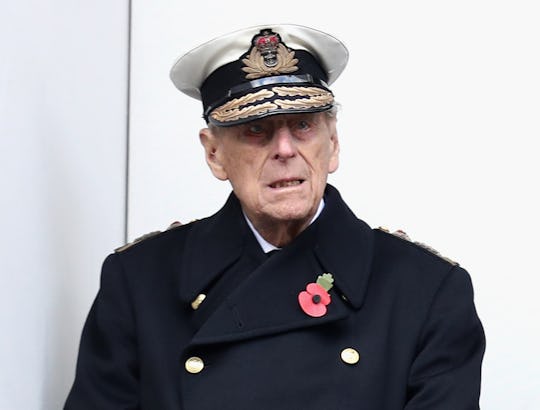 Chris Jackson/Getty Images Entertainment/Getty Images
Here's The Final Answer To Whether Or Not Prince Philip Was Able To Attend The Royal Wedding
While many people might expect every member of the royal family to be present at Prince Harry's wedding to Meghan Markle on May 19, there was actually some debate ahead of the big day about the Prince's grandfather, Prince Philip, Duke of Edinburgh. Reports of his ill health meant that he might have had to miss the ceremony. So now that the day is here, is Prince Philip at the royal wedding?
There was good reason to expect that Prince Philip might have to skip his grandson's wedding. He had a hip replacement surgery just a month earlier in April and was still recovering in the weeks before the service. People reported that Philip couldn't meet his newest great-grandchild Prince Louis after his birth because of that, though the location of the nuptials may have made things a little bit more feasible for him. He has been residing at Windsor Castle and the ceremony is taking place there in St. George's Chapel. Philip had also retired from public life in August 2017, though that didn't mean he'd never make another appearance; he would be there from time to time to accompany his wife, the Queen.
Taking all of that into account, there was some question about whether or not he would be there. However, it seems like he was well enough after all, because Philip did indeed come to the royal wedding.
The rest of the family had been hopeful that he would be able to attend, according to the Mirror, and there were reports from fairly enough on that he would make his despite his ongoing recovery. An alleged royal insider told The Sun in early May that Philip's health was improving and it seemed like he would be able to come to the ceremony after all. The source was quoted as saying:
The Duke is already walking unaided. He has amazing willpower. When he sets his mind to do something he gets on and does it. He has been walking up and down stairs several times in succession. He has also been charing across rooms at full speed. He even had to be told to slow down.
If that was true, then it painted a pretty positive picture of the Prince's temperament in the days leading up to the event. He must have been doing well enough to manage an appearance, though ahead of the wedding, publications speculated that he might not be able to be present for the entire day of celebrations. The Express thought that Philip would be there for the church service but miss the reception, quoting another unnamed source who said, "He's getting better but we don't know will he go for the whole day."
ET Online also reported that Philip's health had played a part in the wedding preparations, because Prince Harry wanted to make sure his grandfather would be able to attend. That influenced the choice of venue and the length of the engagement. Royal expert Kate Nicholl told Entertainment Tonight that Harry chose a chapel that was "close to home for the Duke of Edinburgh and the Queen" before going on to say:
In fact, one of the reasons that Prince Harry has wanted this wedding to happen quite quickly — this is really whirlwind by royal standards — is because his 96-year-old grandfather, the Duke of Edinburgh, is retired now and Prince Harry really wants him to be at his wedding. He's incredibly close to his grandfather and, being 96, Harry thought it was it was a great thing to [have] the wedding sooner rather than later, so his grandfather could be there, fit and healthy.
There was so much uncertainty about Prince Philip's ability to join the other guests at Harry's wedding to Meghan Markle, but it seems like everything worked out in the end.