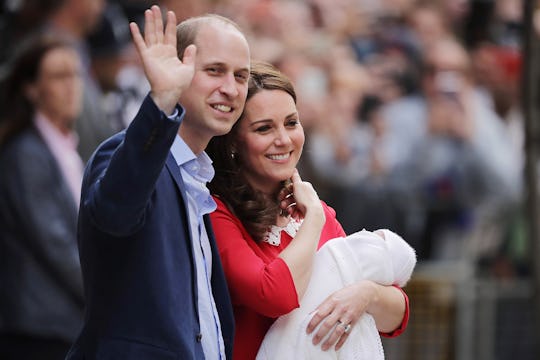 Dan Kitwood/Getty Images Entertainment/Getty Images
Is Prince William Taking Paternity Leave With Prince Louis? Here's How It Works
Now that the royal baby has arrived, it's time for some family bonding. Hopefully Kate Middleton has been able to change into some yoga pants and relax with Prince Louis and that Prince George and Princess Charlotte have been adjusting well to life with their new little brother. And Prince William — what's he up to? Is Prince William taking paternity leave to get his own bonding time with his new son and how does this time off work for royals?
The prince is just a regular guy when it comes to paternity leave, according to the Daily Mail. He's reportedly taking two weeks off, which is the standard amount of paternity leave given to all fathers in the United Kingdom, and the same length he took off after the births of Prince George and Princess Charlotte, as the publication noted. The Daily Mail reported that it's not technically called paternity leave for the prince, but rather just time off from his royal duties.
The prince hasn't held what would be considered a regular job for about a year. Early in 2017, Prince William left his career as a helicopter pilot to assume royal duties full-time, according to Hello! Magazine. He was flying for East Anglian Air Ambulance at the time, an extension of the work he did as a search and rescue pilot during his time in the military, according to CNN. The Duke of Cambridge decided to leave his flying duties when the family moved from Norfolk to London in order to start Prince George in school, according to Hello! Magazine.
As a full-time royal, Prince William's main role is to support the queen, according to the official website for the Duke and Duchess of Cambridge. On a practical level, that means involvement in public or official events, both at home and abroad, where he represents the queen and the country. He's also heavily involved in charity work, where he focuses on four main issues: conservation, the military, mental health, and supporting young people, according to the royals' website.
While those are the official platforms for the prince, the royal family's website notes that Prince William is also a co-founder of The Royal Foundation, along with Prince Harry and Middleton. This foundation gives him a bit more leverage to work on smaller charitable endeavors he's interested in. The Invictus Games, headed up by Prince Harry, is one example of the work of the foundation, according to the royal family's website.
In addition to raising her three children, Middleton is also active in charitable work. Alongside Prince William and Prince Harry, she co-created Heads Together, a "coalition of eight mental health charity partners [working] to change the national conversation on mental health", according to the website for the duchess. In addition, she supports efforts to combat addiction, to raise awareness about children's mental health issues, and to provide palliative care to children, according to her site.
Middleton will be taking time off from these duties as well, and it will be quite a bit longer than her husband's break. Although she famously left the hospital just a mere seven hours after giving birth, she'll now have six weeks at home to rest and recuperate, according to Daily Mail. She was also on maternity leave for a month before the baby was born, according to the publication.
This adorable family has so much attention on them and so many expectations to live up to, it seems only fair that they have bit of time to cloister away and just enjoy this special time together. It would be so great if that included an unannounced, completely private visit from great-grandma Queen Elizabeth II! Hopefully Prince William and his brood get enough space to rest and have fun with one another away from the limelight for a little while. When they come back, the world will be waiting though, watching for those official baby pictures of Prince Louis.
Check out Romper's new video series, Bearing The Motherload, where disagreeing parents from different sides of an issue sit down with a mediator and talk about how to support (and not judge) each other's parenting perspectives. New episodes air Mondays on Facebook.