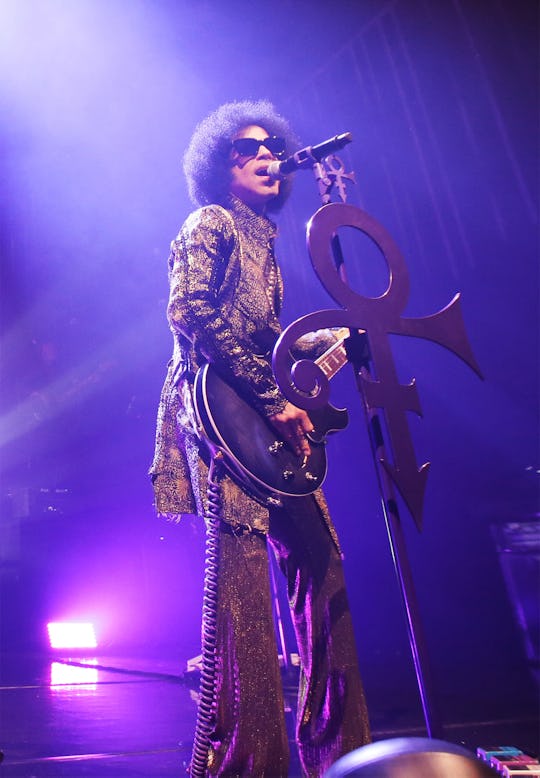 Chelsea Lauren/Getty Images Entertainment/Getty Images
Is Prince's Death Related To His Emergency Landing? The Singer Was Sick With The Flu
Legendary musician Prince was found dead at home Thursday. Last Friday, the singer's plane made an emergency landing in Illinois; Prince went on to get treatment for the flu, according to NBC News. Is Prince's death related to his emergency landing? It is unclear whether his illness led directly to his death at 57.
Update, 8:15 p.m. ET: TMZ claimed in a report on Thursday evening that Prince died of a potential drug overdose, after the singer refused treatment for an opiate overdose earlier in the week. The outlet claimed that "Prince was rushed to a hospital and doctors gave him a 'save shot' ... typically administered to counteract the effects of an opiate," according to multiple sources. Prince's publicist has not yet confirmed the claims.
Publicist Yvette Noel-Schure confirmed Prince's death to The Associated Press; the singer was found dead at home in Chanhassen, Minneapolis. The Carver County Sheriff's department received an emergency call from his studio Thursday morning, according to Rolling Stone. News of Prince's death was not made public until his next of kin received notification.
Prince canceled two Atlanta performances last week, NBC News reported. He stepped onstage Thursday night while still feeling sick, then got on a plane. When the singer's condition worsened, the plane made an emergency landing in Moline, Illinois. at Quad City International Airport, according to USA Today. The Quad-City Times reported that Prince may have been treated at Trinity Moline. Prince was diagnosed with the flu and went home to recover, USA Today reported. Over the weekend, a representative said that Prince was still under the weather but doing well. New tweets even appeared on the musician's account following the emergency landing; Prince's last tweet appeared on April 18.
Prince attended a Minnesota dance party on Saturday, according to the Daily Mail. The singer reportedly spoke to the crowd and said, "Wait a few days before you waste any prayers."
Celebrities shared their grief on Twitter:
Prince won seven Grammys and had five chart-topping singles, according to CNN. He also won an Oscar for the music of Purple Rain. Known as "His Royal Badness" and the "Purple One," he embraced bold fashion choices and developed a unique musical style. Prince pioneered Minneapolis Sound, defined by Rolling Stone as "a hybrid of rock, pop, and funk, with blatantly sexual lyrics."
Prince was a Jehovah's Witness, Leah Greenblatt of Entertainment Weekly told CNN on Thursday. Greenblatt said that Prince was often in good health, didn't smoke or drink, and "lived like a dancer." She went on to say that he was kind but intensely private; he did not like his voice to be recorded, and he prevented reporters from taking notes during interviews.
Prince led a private life, but his art had a powerful international impact. Fans are deeply shocked and saddened by his death; he certainly leaves an extraordinary legacy.