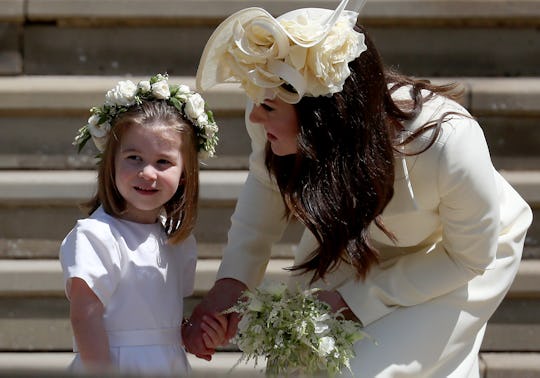 WPA Pool/Getty Images Entertainment/Getty Images
Princess Charlotte Doesn't Have The Same Royal Title As Her Mom Just Yet
Keeping track of all the royal family members' titles can be a tiring task, especially as the family continues to expand. To outsiders, the title system sometimes makes very little sense. That's part of the reason why people are curious about the royal family's youngest girl and wondering, is Princess Charlotte a duchess like Kate Middleton?
Royal titles get even more complicated, because what the public might choose as a name for somebody may not align with their official title. For example, Princess Diana would, officially, be called Diana, Princess of Wales, instead. When it comes to the royal family, only those born into it can use "prince" or "princess" in their name, as noted by Merriam-Webster.
That's why, even though Middleton married a prince in the royal family, the public doesn't see Middleton officially addressed as "Princess Catherine". Instead, Kate Middleton's title is a little more simple.
Before Middleton's wedding, Queen Elizabeth gave Middleton the title of Catherine, Her Royal Highness the Duchess of Cambridge, as noted by Biography.
Middleton was given the title Duchess of Cambridge because of, well, her husband. Although the public commonly knows him as Prince William, the prince's full title is actually much longer.
Calling every royal by their full title can be quite a mouthful and Prince William is perhaps one of the best examples. His entire title is, currently, His Royal Highness Prince William Arthur Philip Louis, Duke of Cambridge, Earl of Strathearn, Baron Carrickfergus, Royal Knight Companion of the Most Noble Order of the Garter, as reported by Harper's Bazaar.
Because some titles have become more symbolic as time goes on, the Queen is able to play around a little more and honor a couple's story with their titles. Before their wedding, Prince William and Middleton were also given the Scottish titles Earl and Countess of Strathearn. According to Live Science, those titles are meant to reflect where the couple met as students at the University of St. Andrews near Strathearn, Scotland.
Given that Live Science also noted Dukedom is the highest hereditary rank of the British peerage, it might make sense to assume that Princess Charlotte is a Duchess herself. But, that's not the case quite yet.
For now, Princess Charlotte's title is less of a mouthful than her father's. As reported by Popsugar, the young princess' full title is Her Royal Highness Princess Charlotte Elizabeth Diana of Cambridge.
As time passes, Princess Charlotte will potentially gain new titles. Her father, Prince William, is currently second in line for the throne, behind his own father, Prince Charles. Most likely, there will come a time when Prince William is crowned king.
When that happens, Princess Charlotte will become eligible for a new title: that of Princess Royal. Essentially, Princess Royal is the title given to the eldest daughter of the reigning monarch.
However, as noted by Town and Country, Princess Charlotte won't gain the title until Princess Anne passes. Currently, the title is held by Princess Anne, as Queen Elizabeth's only daughter. Because the title stays with you for life, nothing but death can take it away.
It is possible for Princess Charlotte to become a Duchess in the future. Typically, that would only occur if she married a Duke, but times are changing.
Before Princess Charlotte's birth, succession laws were changed to give men and women equal shots at ascension. This means that, even with a younger brother, Princess Charlotte hasn't lost her place as fourth in the line of succession for the throne.
This law has no bearing on becoming a Duchess, but it's possible Prince Williams may decide to continue modernizing, and give his daughter a Duchess title upon marriage.
For Princess Charlotte, it seems the days of becoming a Duchess are probably far away, but that's perfectly okay. Right now, it's time for her to focus on just being a kid.