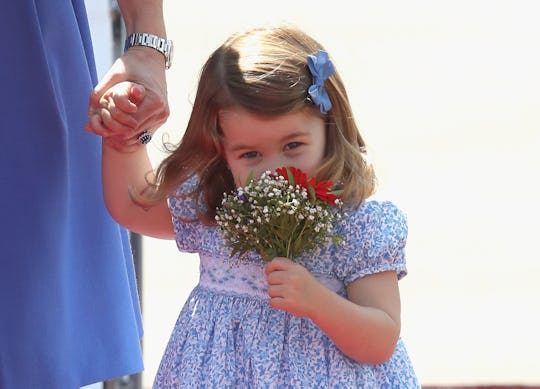 Chris Jackson/Getty Images Entertainment/Getty Images
Princess Charlotte Already Has Experience In Her Expected Role In The Royal Wedding
In just two weeks, Prince Harry will marry American actress Meghan Markle, and everything's really starting to come together. Last week, Kensington Palace announced that Prince Harry asked his brother, Prince William, to be his best man, and although there's been no official word yet, it's expected that Princess Charlotte will be in the royal wedding, as well as her brother, Prince George. They do things a little differently across the pond, though, so don't expect the little royal to be scattering petals down the aisle.
While American weddings typically assign children to the roles of flower girls and ring bearers — naming adults as bridesmaids and groomsmen or ushers — the royal wedding will only have three adults in the wedding party: the bride and groom, of course, and the aforementioned best man, the same setup that Kate Middleton's sister, Pippa Middleton, and financier James Matthews had at their wedding last year.
As for Princess Charlotte, she and three other young girls served as bridesmaids, while Prince George served as one of four pageboys, and it's assumed, according to People, that they'll reprise their roles for the royal wedding. It's their responsibility to hold the bride's train as she walks down the aisle while looking completely adorable, something that Princess Charlotte's got down pat.
Markle won't have a maid of honor, as People reported on Friday, because she didn't want to choose one of her friends over the others. The reasoning behind Pippa's lack of a maid of honor might be due to reasons of etiquette; it could have been that it's considered beneath the duchess' station to "serve" someone else, as Business Insider pointed out. She did help wrangle the kids, but she won't be expected to do so when her brother-in-law and his fiancée walk down the aisle of St. George's Chapel at Windsor Castle on May 19, Vanity Fair reported, as she's just given birth. Prince Louis, who will be less than four weeks old at the time of the wedding, will not attend, according to Hello! Magazine.
Kensington Palace issued a statement saying that the public can expect to learn more about the attendants in the week leading up to the wedding, and provided a little more detail on how things will go down. Markle and her mother, Doria Ragland, will travel to Windsor Castle by car, journeying down the Long Walk, a three mile tree-lined avenue that leads up to the castle gates, where well-wishers will be able to catch a glimpse of the bride, according to the statement. Ragland will split off from her daughter at the chapel, and Markle will be joined by the bridesmaids and pageboys before her father, Thomas, walks her down the aisle. Kensington Palace added that the bride is "delighted to have her parents by her side."
There are a few more differences between a traditional British wedding and an American one that royal watchers should familiarize themselves with, as well. First of all, while American weddings are typically held in the late afternoon into the evening, in the United Kingdom, they're a daytime affair. Prince Harry and Markle's wedding will begin at noon local time, followed by a "wedding breakfast," their name for the reception. ABC News reported that a second, more intimate reception will be hosted later by Prince Charles, with only close friends and family attending.
Wearing a white dress to an American wedding is considered taboo, but British bridesmaids often wear the color, according to Vogue, just as Princess Charlotte did last year. And don't expect to see tuxedos; the men's attire consists of a "morning suit," according to ABC News, which features tails and a waistcoat. And of course, there are hats. Amazing hats. Princess Charlotte, however, probably won't be sporting a fascinator, instead likely be donning a flower crown as she did for her other aunt's wedding. And given that this is the princess' second go-round, it should go off without a hitch.
Check out Romper's new video series, Bearing The Motherload, where disagreeing parents from different sides of an issue sit down with a mediator and talk about how to support (and not judge) each other's parenting perspectives. New episodes air Mondays on Facebook.