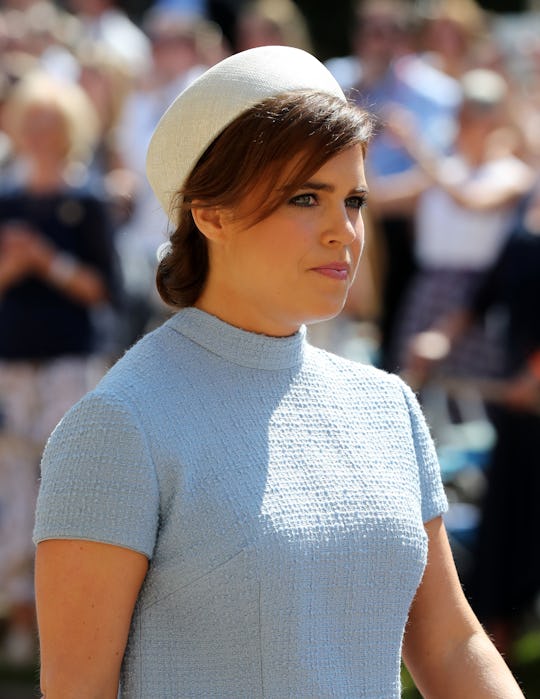 WPA Pool/Getty Images Entertainment/Getty Images
Princess Eugenie (& Her Hat) Attended The Royal Wedding, & It Was Glorious
There are quite a few impressive guests in the crowd at Prince Harry's wedding to Meghan Markle, including several members of the extended royal family. Some may wonder if they'll get to see Princess Eugenie of York as well, especially since she's got her own special ceremony to look forward to before the year ends. But is Princess Eugenie at the royal wedding?
For those not in the know about how all the branches of the British royal family connect, Eugenie is the first cousin of Prince William and Prince Harry. She's the youngest daughter of Prince Andrew and Sarah, Duke and Duchess of York; Andrew is the younger brother of Prince Charles. She's a fairly close relation to the groom, so one would almost definitely expect to see her among the other attendees, and Eugenie didn't disappoint. She was one of many royals there to join in the celebration.
It makes sense that Eugenie would make the guest list. Ahead of the wedding, WTVR reported that she was expected to attend along with her sister Princess Beatrice of York. Both women attended Prince William's wedding to Kate Middleton (in some pretty memorable hats, at that), and their father was also predicted to be at Harry and Markle's wedding. Their mother, often referred to as Fergie, was less of a sure thing; she'd had some issues with the family in the past and hadn't attended William and Kate's wedding, either.
Eugenie appears to be pretty close to Harry too, at least logistically. She and her fiancé Jack Brooksbank live in Ivy Cottage at Kensington Palace, which is directly next door to Nottingham Cottage, where Harry and Markle reside. It would be pretty awkward if your first cousin was also your neighbor and she somehow didn't make it to your wedding, especially since it does seem as though the two pairs of engaged royals get along quite well. People reported that Eugenie, Brooksbank, Harry, and Markle all went out together several times in London and Toronto while Markle finished filming for Suits.
Eugenie will also be the focus of the second royal wedding this year when she marries Brooksbank in October. They will even be using the same venue as Harry and Markle: St. George's Chapel in Windsor Castle. Eugenie and her fiancé dated for seven years before getting engaged during a trip to Nicaragua. When talking to BB1's Matt Baker, Eugenie described how perfect the proposal was, saying she was "over the moon":
The lake was so beautiful. The light was just a special light I had never seen. I actually said, 'This is an incredible moment,' and then he popped the question, which was really surprising even though we have been together seven years.
Eugenie's wedding will follow six months after Harry's, and the two events might not be too similar despite the shared ceremony space. Each couple will want to put their own touches on their wedding and Eugenie also has a bit more freedom when it comes to the details and the guest list, at least according to PopSugar. Though two royal weddings in one year are bound to invite comparisons, it doesn't seem as though there's any rivalry between the couples themselves. An anonymous friend of Eugenie's told People, "It is complete love, and there is room for all of them."
It seems as though it would have been more unusual for Eugenie to skip out on her cousin's wedding, since they're close family and seem to be on good terms. While there's always the possibility of extenuating circumstances popping up unexpectedly, Princess Eugenie didn't have to worry about anything keeping her from the ceremony today.