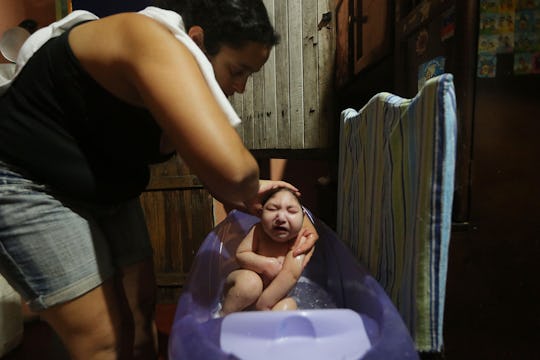 Mario Tama/Getty Images News/Getty Images
Is Puerto Rico Downplaying Zika-Related Pregnancies?
For the larger part of the past year (and the year before), the Zika virus seemed to be making national and international headlines on a daily basis. It started to feel as though not a day went by when another case wasn't reported, or the effects of the virus came into the spotlight. Since 2015 there have been a reported 5,234 Zika virus disease cases reported in the United States alone, with at least 62 Zika-related pregnancies in the United States. But not all statistics add up, especially those reported by Puerto Rico. So, is Puerto Rico downplaying Zika-related pregnancy numbers? Several experts in the field believe it's possible.
According to a report by Stat, "Experts are beginning to question whether the actual [Puerto Rico Zika] count is being significantly underreported by authorities on the island." Puerto Rico reports "only 16 cases of congenital defects associated with Zika, even though more than 3,300 pregnant women are known to have contracted the virus and several times that number are believed to have been infected," the outlet added.
So, with such a large disparity between what the nation's officials report, and with other affected countries, like the United States, reporting more cases, why are Puerto Rico's numbers so low? And if they are hiding the real numbers, why?
Tourism in the United States territory might be part of the issue, it seems. Puerto Rico relies on about 3 million tourists each year, all of whom contribute to a large portion of its revenue and capital. But with Zika virus scares, and competing Caribbean islands on the rise, Puerto Rico may be under-representing its Zika numbers in order to maintain a steady stream of tourists.
A former United States official spoke with Stat about Puerto Rico's possible misinformation, remaining anonymous, but still weighing in on the issue:
Puerto Rico's not escaping this. They're just hiding. They're kind of in denial about what the problem is. And six months, a year, two years from now there will be all these babies who aren't learning and all these problems that will come to light.
In total, as the CDC pointed out in a recent report, "1,297 pregnant women in 44 states" were reported to the Zika registry in 2016, and among those possible cases, "Zika virus–associated birth defects were reported for 51 (5 percent) of the 972 fetuses." However, among laboratory-confirmed cases, that percentage rose, with 15 percent of those infants exhibiting symptoms. In their defense, it could be that officials in Puerto Rico simply haven't confirmed the cases and are wary of posting final totals until they can do another count themselves, post-birth — but that seems unlikely.
Whatever the case, though, Zika is far from gone. It's still impacting lives all over, and preventive measures should be taken by everyone — even if they aren't ready to admit it.