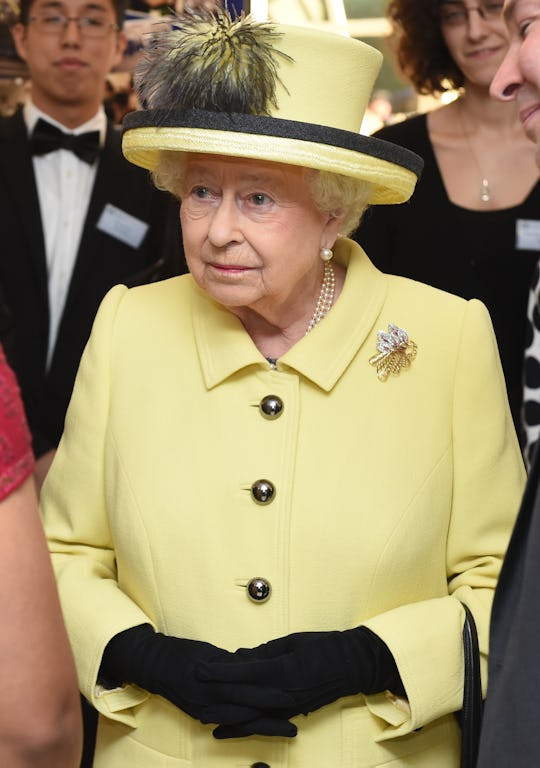 Stuart C. Wilson/Getty Images Entertainment/Getty Images
Is Queen Elizabeth Sick? How Do We Make Her Better?
While you're busy decking your halls for the holiday (or just enjoying some time off) make sure you take a moment and pour out a little eggnog for the Queen of England, who has cancelled her Christmas plans. According to a spokesperson for Buckingham Palace, she and the Duke have "heavy colds" and won't be traveling this week to their estate, Sandringham, in Norfolk like they always do at this time of year. But can it be more than that? Is Queen Elizabeth sick? It doesn't sound any more serious than a few sniffles, according to Buckingham Palace, so you can relax. For now, at least.
Although the cancellation of their plans was super last minute, it's probably safe to assume the royal family is being pretty upfront with everyone (come on, we all watched The Crown). Still, the facts as we know them are concerning at first glance: Queen Elizabeth and Prince Philip were supposed to travel on Wednesday from King's Cross, and security was all set up and ready to go but then they cancelled just minutes before the train departed. How dramatic, right?
It's a little suspicious that she and the Duke would cancel at the same time for the same reason, but before you start thinking that there's some royal scandal (or that she's hiding a more serious condition a lá Winston Churchhill) it could just be that they don't feel up to it.
The Queen is 90 years old and she's, well, the queen. She can do what she wants, so if she and the Duke need to snuggle up with some chicken soup and Netflix instead of parading around the country for the holidays, so be it.
Let's pretend that's exactly what's happening and there's nothing more serious to worry about. Because if they do have "heavy colds," which must be British for "really freaking sick," it's probably better that they don't go outside. Of course we all love the Queen, but she is old. They're both really, really old, with all due respect (insert a curtsy here).
According to Sky News's Rhiannon Mills, who covers the Royal family, the couple might try to make it up north for the holiday. "We'll all be watching out to see whether or not they make that train journey or whether it's decided that because they are feeling under the weather they decide to travel by car instead," Mills said.
"I don't really think they will want to give a running commentary on their health but you have to remember that the Queen this year turned 90, her husband is 95 years of age, so whenever you hear of anyone that age being unwell it is undoubtedly going to cause some degree of concern," she added. Uh, yes we are concerned. This is the Queen of England we're talking about. And Prince Philip, too, but really the Queen is who we're really worried about.
They're supposed to live forever and ever.
Queen Elizabeth hosted the annual Christmas lunch at the palace on Tuesday, but she also announced that she was giving up some of her Royal patronages to younger members of the family. So the Queen's clearing her schedule, as the longest serving monarch in England's history, because even royal badasses feel under the weather sometimes.
Leave it to Queen Elizabeth to cancel plans in the most polite way possible just minutes before their train was supposed to leave the station. If you find yourself trying to avoid some family this year over the holidays, you can always tell them that you're staying home with a "heavy cold," in deference to the Queen. It's the proper thing to do.