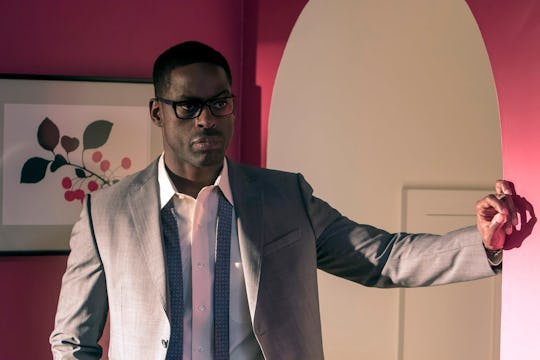 Ron Batzdorff/NBC
Is Randall Adopted On 'This Is Us'? His Story Is Integral To The Show
The big surprise at the end of the premiere episode of This Is Us was that every character is actually related. The show follows two separate storylines: parents Jack and Rebecca in the past and their children Kevin, Kate, and Randall in the present. The twist within a twist is that Randall was taken home by Jack and Rebecca after his birth father abandoned him and his birth mother passed away. Even though it's clear that Randall was raised by Jack and Rebecca, the whole thing is kind of confusing – like, is Randall adopted on This Is Us, officially?
It seems kind of suspect that newborn Randall would be allowed to go home with Jack and Rebecca right away. It also seems difficult to believe that the adoption would be that simple, particularly because of the circumstances. It was an unplanned, spontaneous adoption that came right on the heels of a pretty dramatic delivery that resulted in the death of one of Jack and Rebecca's triplets. However, just because the audience knows that everything works out in the future, that doesn't mean there won't be obstacles in the past. This Is Us intends to explore all the facets of Randall's adoption and what it means for the family. Showrunner Dan Fogelman isn't ignorant of the difficulties of the situation.
The writers behind the series did their research when it came to adoption, and specifically interracial adoption. The past is an additional factor when it comes to exploring Randall's story; he was a black child adopted by a white family and raised in a predominantly white neighborhood in the 1980s. That has a big impact not only on Randall, but on his entire family. Sterling K. Brown, who plays Randall, discussed how that plays into his character's identity. "It will be interesting to see how Randall's socialization, how he interacts with the African-American community, how his wife grounds him... the struggles his parents make to introduce him to his culture, the things they need to learn."
Fogelman discussed the complications intrinsic to the story in an interview with Entertainment Weekly. "There's multiple things going on there," he said. "There's a white family in a predominantly white neighborhood adopting a black child. There are three children in one home which is a stress in and of itself. One of those children is replacing essentially a child who died, and with grief and loss. So there's a lot of complicated elements in that storyline. And then there's just the typical elements that happen in life."
While all the details of Randall's adoption haven't been revealed yet, it is clear that This Is Us is taking the storyline seriously. Hopefully the show will deliver on its promise to explore it to the fullest.