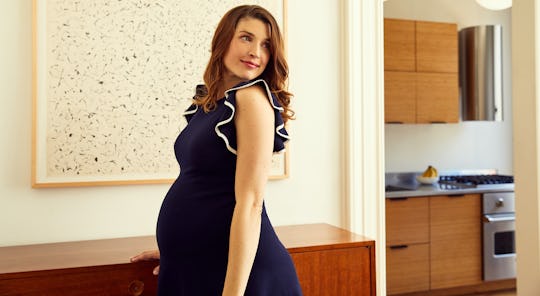 Courtesy of Rent the Runway
If You're Pregnant & Stressin' About Maternity Clothes, This Service Might Help
Plenty of people use Rent the Runway to spruce up their work wardrobe or get glammed up for a special event. But now the service caters to an entirely new crowd, and that's pregnant women. So is Rent the Runway Maternity worth it? Depending on your lifestyle and budget, the service might be a great way to outfit your entire pregnancy.
For some women, RTR Maternity is a budget-conscious way to get a designer wardrobe throughout your pregnancy. All shipping is covered, as well as dry cleaning. Plus, there are different tiers for various budgets and scenarios. For instance, if you get invited to a formal wedding sometime during your third trimester, you probably don't want to invest a ton of money in a dress you're only going to wear once. So using the RTR Reserve service, which starts at $30 per rental and allows you to keep each piece for up to 8 days, will let you use that fancy maternity dress (ranging from a hundred to a few hundred) for an event without committing to it for life. Or get a casual summer dress you can live in all week and the cost-per-wear basically comes out to just a few bucks.
Next, the service can be especially helpful for women who need a polished, professional wardrobe for the next nine months without breaking their budget. For instance, the RTR Update option lets users rent four pieces per month at a cost of $89 each month, which works out to about $22 per piece. For designer goods, this is a super cheap option. It's an easy way to introduce a few maternity-specific pieces into your regular wardrobe without paying full price. You'll get an even bigger bang out of your buck if you wear the pieces more than once.
Also, there's the option of straight-up renting the majority of your maternity wardrobe. If you're on your last kid, for instance, then this may be a worthwhile option. The RTR Unlimited option lets you choose four rentals at a time from an unlimited selection, at a cost of $159 per month. You can just size up to fit your body as the trimesters continue, and rotate in and out of as many pieces as you'd like during the month.
If you're into trends and fashion in general, then this might also give you the chance to try out tons of options without spending a ton of money on clothes. I mean, how often do you get the chance to rock some maternity overalls or a pair of maternity jean shorts? You can wear the pieces a couple of times, put a few pics on Instagram, and move on to the next thing. Having fun with your wardrobe doesn't have to stop now.
Lastly, renting means you don't have to worry about what you're going to do with the maternity clothes after your baby arrives. They won't end up languishing in some storage bin for the rest of time. You can just send them back and focus on bonding with your little one. Plus, the service lets you bypass the world of poorly made fast fashion, so you can enjoy well-made garments at a discount, one month at a time, which, TBH, is just about how long you'll fit into each maternity item you buy anyway, before you have size up for the next trimester.
That said, Rent The Runway is not necessarily the best choice for everyone. If you don't have any special events on the horizon, have no desire to wear designer clothes on the regular, and have already amassed an impressive maternity wardrobe from previous pregnancies, then these options may not be worth your time or money. There are plenty of budget-friendly options for maternity clothes out there, especially if you're savvy about secondhand shops and thrifting. Borrowing clothes from a friend or relative is always an option, too. And if more low-key styles are your thing anyway, then spending your pregnancy in trendier gear might feel weird. Hey, not everyone feels like making a fashion statement when they're trying not to get violently nauseous every morning. It's totally understandable.
For the most part, though, Rent The Runway Maternity is a nice option to have for pregnant women. If you're looking to construct a fashionable, well-made maternity wardrobe while sticking to a budget, then it's a fantastic service to consider.