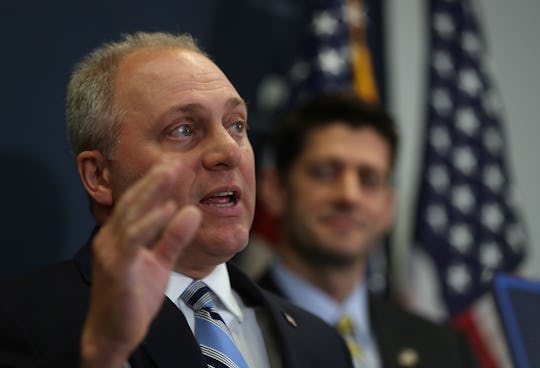 Justin Sullivan/Getty Images News/Getty Images
Is Rep. Steve Scalise Still In Critical Condition?
Early Wednesday morning, a gunman opened fire on Republican lawmakers and congressional staff who were practicing for the annual Congressional Baseball Game for Charity. The mass shooting left at least five people injured, including the Republican House Majority Whip Steve Scalise of Louisiana, who has been hospitalized. Is Rep. Steve Scalise still in critical condition? News reports indicate that the congressman's health is improving, although he is not in the clear yet.
Officials at MedStar Washington Hospital Center told the Los Angeles Times that Scalise will remain in the hospital "for some time" and "will require additional operations" to take care of his wounds. The GOP lawmaker had surgery on Thursday to fix a broken bone and treat internal injuries caused by a shot to the hip that tore through his pelvis, the LA Times reported. Scalise entered the hospital Wednesday morning in critical condition with life-threatening wounds, according to hospital officials speaking at a news conference Friday.
Democrats and Republicans in Congress have wished Scalise a full and speedy recovery over the last few days. According to the LA Times, Democratic Rep. Cedric Richmond, also from Louisiana, said,
I'm prayerful he will pull through, and I hope he does.
The shooting happened Wednesday morning, shortly after 7 a.m. Eastern Time, at a baseball field in Alexandria, Virginia. In addition to Scalise, a congressional staff member, a lobbyist, and two Capitol Police officers were injured, according to CNBC. U.S. House Speaker Paul Ryan of Wisconsin identified the two officers as Crystal Griner and David Bailey. CNBC reported that Griner was shot in the ankle and was "good condition in the hospital," while Bailey was treated and released after experiencing a minor injury.
According to CNBC, Republican Sen. Rand Paul, from Kentucky, said after the shooting took place that if law enforcement wasn't present, "it would have been a massacre." Capitol Police was present at the baseball practice because Scalise is the third highest ranking House Republican. The gunman was shot and killed by police.
The 108th Congressional Baseball Game for Charity took place Thursday night despite the Wednesday incident. According to CNN, the Democratic team won the annual charity baseball game, but manager Rep. Mike Doyle of Pennsylvania presented the winning trophy to the manager of the Republican team, Rep. Joe Barton of Texas, so that it could be placed in Scalise's office.
CNN reported that nearly 25,000 tickets sold, a record since the first charity game took place in 1909. More than $1 million had been raised, which will go towards four charities: the Boys & Girls Club of Greater Washington, Washington Literacy Center, the Washington Nationals Dream Foundation, and the Capitol Police Memorial Fund.