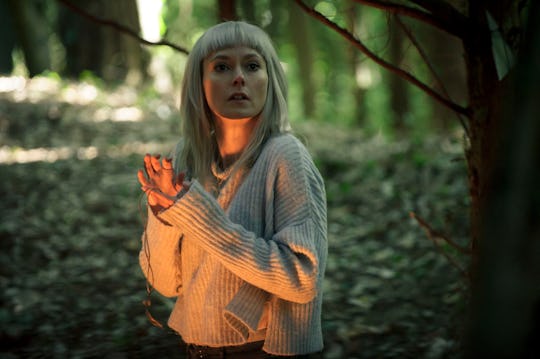 Alistair Heap/Netflix
The Inspiration Behind Netflix's 'Requiem' Comes From A Surprising Source
In partnership with BBC, Netflix has a new thriller series coming out that looks absolutely spine-tingling. The trailer alone proves Requiem has all the makings of a great horror, including missing children, communicating with the dead, and a creepy ancient English manor. So you may be surprised to learn that this story has some basis in reality. If you're asking yourself: is Requiem is based on a true story, the answer is not technically. However, much of the plot was inspired by a real-life historical figure. Warning: minor plot spoilers ahead!
John Dee was a 16th century scientist and possible sorcerer who became one of the U.K.'s most enduring (and frightening) figures. In the mid-1500s, Dee rose to social and political prominence. After narrowly escaping execution for predicting Queen Mary's death, he came into favor with Queen Elizabeth after she did die. Dee used his mathematical and map-making expertise to help the Queen chart a northwest passage, and advised her on her rights to the New World. His journals even include one of the first ever references to a "British Empire." He also claimed to communicate with ghosts, spirits, and angels, looked for visions of the future in a magical obsidian mirror, and may or may not have been involved in the world's first sex cult.
Requiem is mostly concerned with the spooky ghost stuff, not so much Dee's actual historical relevance or his importance to Queen Elizabeth in the 16th century. Aside from his own recordings, there's no proof that Dee ever truly contacted angels or the dead, or that his black crystal ball (like the one seen in the show) ever showed him visions of the future.
The strange hieroglyphics seen on the show were real, however, and based off of drawings Dee actually made. Dee also had a son named Theodore as mentioned in the show. However it's unlikely that he really went on to continue his father's work as it indicates in the series because he died at age 13. But just like in the show, Dee definitely did spend a good deal of time in Wales, though he was born and raised in London. So sure, you could say that the show is based on a true-ish story, though the particulars of the plot are pretty safe to call a work of fiction.
Express reports an unnamed source saying to them, "We reveal that the series is inspired by John Dee. He had connections to Wales — like in our drama. He also claimed to speak to 'angels' and spirits through a black mirror shown in Requiem. Dee also had a son Theodore mentioned as a past resident of our manor house." So the connection is clearly there. And it's hardly the first time that Dee has been used as artistic inspiration. He is said to have inspired the character of Prospero in William Shakespeare's The Tempest. So at least it looks like Requiem is in good company in that respect.
But if you were thinking that there really was a mysterious Welsh house and missing little girl and all the other terrifying stuff that happens in Requiem, well sadly there is no evidence that any of those things really took place in any way, shape, or form. But hey, you never know, I suppose. After all, John Dee clearly believed in angels and spirits. Maybe he was right all along.
Requiem is available for streaming on Netflix starting on Friday, March 23. Trust me when I say you'll want to check this one out.
Check out Romper's new video series, Romper's Doula Diaries:
Watch full episodes of Romper's Doula Diaries on Facebook Watch.