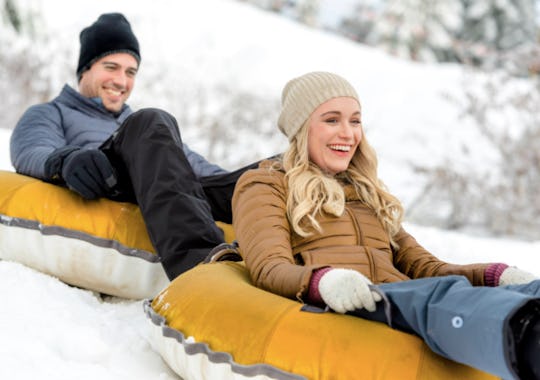 Hallmark Channel
The Setting Of Lifetime's 'Love On The Slopes' Is A Winter Wonderland
This weekend, the Hallmark Channel's Winterfest kicks off with a cute romantic comedy about a New York City writer tasked with facing her fears by doing some extreme sports. With the help of a handsome resort owner, of course. Some of the things look like so much fun, it's possible you'll want to book a trip and go for yourself. But is Ridgeline Resort from Love On The Slopes a real place or is totally made up?
Alas, I'm sad to say that the movie is a fictional story and so is the setting it's taking place in. According to a behind-the-scenes video interview with Thomas Beaudoin, who plays Cole, the Ridgeline Resort is supposed to be in Colorado, but in reality, it was filmed on Whistler Mountain, in British Colombia, Canada. That being said, there actually is a Ridgeline Hotel that exists in Estes Park, Colorado. According to its visitor page, the park is considered the "gateway" to the Rocky Mountain National Park, so it's just as extreme an adventure as going to the fictional Ridgeline Resort would be. In the winter, you can go skiing, snowboarding or snowshoeing, along with other winter activities.
They also have an annual Winter Festival in the end of January where you can, "taste award-winning chili, sip a variety of beers and wines; browse retail vendors; enjoy live entertainment," according to the website. And pretend you're in an IRL Hallmark movie! So while the filming of the movie didn't take place there, I think it's safe to say the on-screen resort has some real-life roots.
But if you're a real fan of the movie and want to go exactly where the scenes were shot, you're going to have to head all the way to Whistler Mountain, which has tons of different resorts, hotels, and accommodations, along with a slew of winter and summer activities. Both places aren't all extreme sports, either. If you just like the winter view but hate getting cold, then spas, hot tubs, and restaurants are also in abundance. You can get the Love On The Slopes feel without having to do any of the hard work, which might be the best way to go depending on what the word "vacation" means to you.
It's not like they didn't film in Colorado because it wasn't just as beautiful. There are tons of reasons why movies film in certain places, the main one being expense. It costs less to shoot a film in Canada and there are often government subsidies.
David Anselmo, the CEO of Hideaway Pictures, a Canadian production company that works on these films, told Sudbury.com, "A lot of Hallmark movies get made in Canada and Northern Ontario. It's a great economic driver for the industry. Every movie we film, we're hiring hundreds of locals and spending millions of dollars in the local economy."
For each Hallmark film specifically, they employ about 70 crew members, 10 actors, and 200 to 300 extras. Each movie filters about $1.2 million back into the local economy, too. According to Slate, about 1,500 film and TV shows were filmed in Canada between 2000 and 2006, so there's bound to be more. Suits, for example, films in Toronto, despite being set in New York City. Brokeback Mountain was filmed in the Canadian Rockies, and not Wyoming. Sort of mind-blowing, right?
So if you're loving the look of the scenery in a Hallmark movie, including Love On The Slopes, it's likely somewhere in Canada. Road trip, anyone?
Check out Romper's new video series, Romper's Doula Diaries:
Watch full episodes of Romper's Doula Diaries on Facebook Watch.