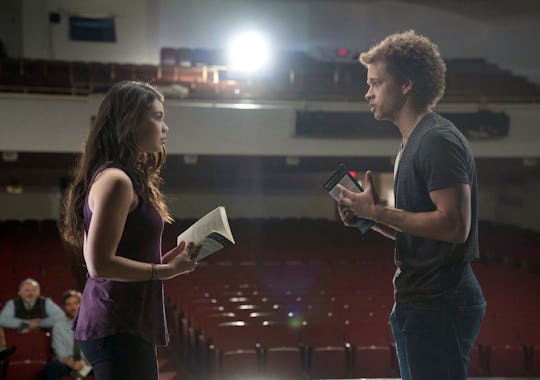 Peter Kramer/NBC
The Inspiration Behind NBC's New Series 'Rise' Is Complicated
NBC is trying its hand at another musical drama following the cult-approved, but critical and ratings flop Smash, which lasted for two seasons before getting canceled in 2013. Its new series, Rise, focuses on the downtrodden theater department of a working class high school which funnels all its money and attention into its football program. The show part Glee, part Fame, part Smash, with the cinematography style of Friday Night Lights and Parenthood, but is Rise based on a true story? The answer is pretty complicated, and honestly, still up for debate.
Officially, the series was inspired by Michael Sokolove's non-fiction book Drama High: The Incredible True Story of a Brilliant Teacher, a Struggling Town, and the Magic of Theater. The teacher in question was Lou Volpe, a closeted gay man living in Levittown, PA, who revitalized the theater department of the high school he worked at (Harry S. Truman High School in Bucks County), and came out late in life.
The book itself, which was published in 2013, was described as "Glee meets Friday Night Lights," which may be why it attracted the attention of Friday Night Lights showrunner Jason Katims (hence Rise feeling stylistically similar). But Rise takes one major departure from the book, which has caused a lot of controversy and ultimately changed how the show was classified: it made its lead character, teacher Lou Mazzuchelli, straight.
This led to backlash around the straight-washing of characters, which wasn't helped by Katims' unfortunate choice of words in a presentation at the Television Critics Association's winter press tour. There, Katims answered a question about changing the main character's sexual orientation by saying that he needed to make Rise his "own story." Media outlets interpreted this as Katims saying that he changed the character's sexual orientation so that he, as a straight man, could better identify with the character he was writing.
He later released a statement, as reported by Entertainment Weekly, saying:
The misinterpretation by some of what we've done with this show goes against what we fundamentally believe and who we are as individuals. We are firmly committed to LGBTQ inclusion, and most of all, are excited for the community to see Rise, which we believe portrays positive depictions of LGBTQ characters and stories on broadcast television with honesty and sensitivity. To that end, we worked with GLAAD on the show's LGBTQ storylines to ensure they are told with respect and authenticity.
In fact, according to Entertainment Weekly, the Writers Guild of America gave Katims a "created by" credit on the series rather than "developed by" (which is usually how adaptations are credited) because Rise was such a dramatic departure from the original source material of Drama High. So the TV series is being classified as "inspired by" the book rather than "based on."
Questionable queer representation aside, the team behind the series is an all-star one, and the trailer looks like the heartstring-pulling cryfest we're used to from Katims. Volpe himself serves as a consultant on the show, according to The Hollywood Reporter, and the series is co-executive produced by Jeffrey Seller, a producer on Hamilton, and his producing partner Flody Suarez. The cast includes Rosie Perez, Auli'i Cravalho of Moana fame, Shannon Purser AKA Stranger Things' Barb, Stephanie J. Block, and How I Met Your Mother's Josh Radnor.
Ultimately, if a bunch of surly, misunderstood teens sitting crosslegged on an auditorium stage being vulnerable and finding themselves through performance speaks to you on a soul-deep level, then the show is probably worth checking out at least for a few episodes.
Check out Romper's new video series, Romper's Doula Diaries:
Watch full episodes of Romper's Doula Diaries on Facebook Watch.