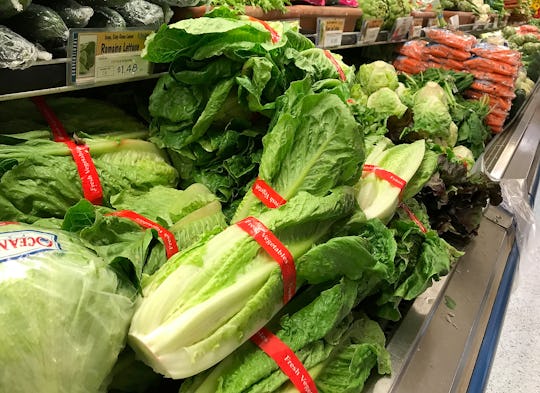 Justin Sullivan/Getty Images News/Getty Images
CDC & FDA Issue An Update On The Romaine Lettuce Recall After E. Coli Outbreak
You never really notice just how common or important something is until it's gone. For those of us who never paid much attention to the different types of lettuce, the recent recall certainly helped people realize how often romaine lettuce is used in our everyday foods. A week after the Centers for Disease Control and Prevention (CDC) urged people to avoid it due to E.coli concerns, people might be wondering if romaine lettuce is safe to eat again. Though the CDC is still continuing its investigation, there is some good news. But, don't pick up those forks just yet.
Last week, the CDC and the Food and Drug Administration together advised people to not eat any romaine lettuce at all, and called for all stores to remove it, according to TODAY. The decision was made after increasing reports linking romaine lettuce to E.coli infections. According to the CDC's original statement, illnesses started on dates ranging from Oct. 8 through Oct. 30.
The CDC's original warning included all types of romaine lettuce, such as hearts of romaine, precut lettuce, and any salad mixes containing it. But, considering the original statement noted 32 people infected with the outbreak strain of Shiga toxin-producing E.coli from 11 states, as reported by CNN, the strong warning made sense.
And as of this week, the CDC has returned with an update. According to a statement posted on Nov. 26 on its website, you can eat romaine lettuce — but only if you can confirm that it was not harvested from the Central Coastal growing regions of northern and central California.
Since the last update, the FDA tweeted that total illnesses have climbed to 43 across 12 states, including 16 hospitalizations.
Now, the FDA and CDC believe that the outbreaks are associated with areas of California that grow during the summer months. In his statement, FDA commissioner Scott Gottlieb noted that the outbreak appears to be related to "end of season" romaine lettuce harvested from those areas.
Regions that grow romaine during the winter, such as Florida, Mexico, and desert regions of California and Arizona, are unlikely to be contaminated. In addition, romaine lettuce that is grown hydroponically and in greenhouses should be fine, as reported by The Verge.
The lettuce products you had before the outbreak probably won't tell you much about what region it was from. According to the CDC's statement, "Romaine lettuce products will be labeled with a harvest location by region. It may take some time before these labels are available."
The FDA has worked with major producers and distributors of romaine lettuce to ensure these labels make it on to their products. According to Gottlieb's statement, the FDA has urged growers, processors, distributors, and retailers to label all individually packaged romaine products identifying both growing region and harvest date or labeling at the point of sale if it's not possible for suppliers to label the package.
"During this new stage of the investigation, it is vital that consumers and retailers have an easy way to identify romaine lettuce by both harvest date and harvest location," the FDA noted in its statement.
The organizations hope that these labels will become standard within the industry. That way, if any future outbreaks occur, it will be much easier for consumers to ensure their products as safe.
For now, don't take any risks with unlabeled products. As the CDC advised in a recent tweet, "If you can't confirm where it was grown, don't eat it."