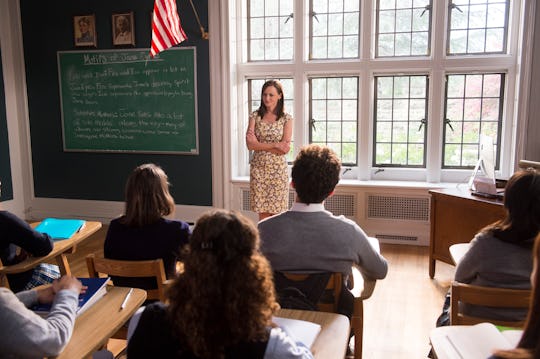 Neil Jacobs/Netflix
Is Rory A Surrogate? The 'Gilmore Girls' Revival Raises The Possibility
The final four words of the Gilmore Girls revival left a lot of possibilities up in the air. As a cliffhanger, that final moment was particularly infuriating knowing that there's no guarantee of a sequel yet. All fans knew was that Rory was pregnant, but they had no idea how she felt about it, who the father was, or what she planned to do. Rory's pregnancy could change everything for her and it definitely left the audience with a lot of questions. Though it seemed like a fairly straightforward scenario, an earlier offhand comment by Rory had some fans wondering: is Rory a surrogate in the Gilmore Girls revival?
It's out there as far as theories go, but it's not entirely implausible. Surrogacy is something that came up a few times over the course of the revival, though not specifically in relation to Rory; Luke and Lorelai were considering it as an option to have a child and Paris (now a doctor) ran a fertility and surrogacy clinic. She even brought two surrogates with her to Stars Hollow when she was trying to help Luke and Lorelai make a choice, in her particular Paris way. During one of Rory's more lost moments, she even joked with Jess that she should be a surrogate for Paris — but what if it wasn't a joke?
Throughout the revival, Rory made it clear that she was low on funds. She was between jobs with very few prospects in sight and writing can be unreliable when it comes to cash money flow in general. By the end of the new episodes, Rory had found her calling, but deciding to write a book doesn't guarantee an immediate influx of cash. Rory wouldn't see any money until she got a book deal, if she got one, and even then it might not be enough. Surrogacy can pay quite a lot, especially if Rory was getting a good deal from her friend Paris, and it would set her up with enough money that she could take time to work on her book.
There's also the possibility that Rory was acting as a surrogate for Luke and Lorelai. Though it seemed like they ultimately tabled the baby possibility, Luke and Lorelai were serious enough about it to take a meeting with Paris — even if Luke could never quite figure out how surrogacy worked. Maybe Rory decided to undertake surrogacy as a surprise for her mom and stepdad so they could have a kid? It's definitely on the ostentatious side as far as wedding presents go, but maybe she wanted to go big.
In this case, the simplest answer might be the right one — Rory is probably pregnant as a result of either her ongoing relationship with Logan or her one night stand with a Wookiee. But then again, crazier things than a surprise surrogacy have happened in Stars Hollow, so I guess you never know.