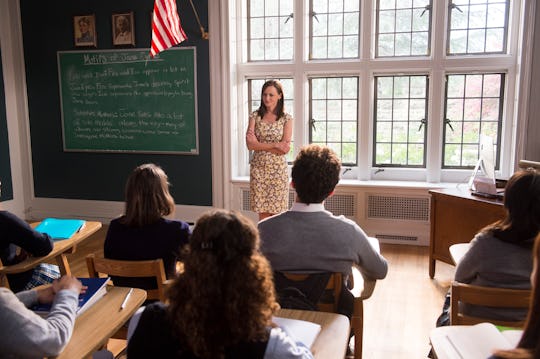 Neil Jacobs/Netflix
Is Rory Pregnant On The 'Gilmore Girls' Revival? There Could Be A Clue
One of the most exciting part of the upcoming Netflix Gilmore Girls revival is catching up with the characters and finding out what they've been up to since fans saw them last. Almost everyone is wondering if Rory has finally made a choice in her own personal Bachelorette, choosing one of her old boyfriends (or maybe finding a new flame) and settling down. There's no word on if Rory is married or has any children, but one Instagram post has fans buzzing about it. Is Rory pregnant on Gilmore Girls?
When it was announced that actress Alexis Bledel was expecting a child with her husband Vincent Kartheiser, fans immediately began to wonder if that meant Rory was going to be pregnant too. Her pregnancy ended up not overlapping with filming for the show, but that doesn't mean Rory couldn't still be expecting. The picture posted to the official Gilmore Girls account features a plate of pop tarts and one single apple as appetizers for a pizza (obviously), but what about this made fans wonder about a new potential Gilmore girl? Weird snack mixes wouldn't count as pregnancy cravings for women like Rory and Lorelai, but that isn't what's suspicious: it's the apple that's out of place. And it could mean something big.
Back when Lorelai was dating Luke she had a pregnancy scare (in the episode "Blame Booze and Melville") and she realized it because she was craving an apple, a craving she had only had the last time she was pregnant with Rory. There could be a like mother, like daughter situation happening here too. It's not a definitive sign by any means (as the doctor Lorelai rambles to in the episode about her pregnancy scare affirms) but it is still a potentially telling detail.
Lorelai: Okay, see, I'm eating an apple. Now, normally, this would not be a sign of anything except hunger. Except I don't eat much fruit. I know I should, but I don't have a hankering for it. Had it when I was pregnant with my first kid, though. Kept craving those apples. And this morning, boy, was I craving an apple.
However, fans were quick to point out that the plate of pop tarts and apple is actually a nod to another Gilmore Girls episode: Season 1's "Concert Interruptus," when Lorelai and Sookie took Rory, Paris, Madeline, and Louise to a Bangles concert. While the girls are bonding pre-concert and waiting for their pizza to arrive, Lorelai whips them up an appetizer of pop tarts and apple. Considering the post is also about waiting for pizza, it seems like the apple might just be a last ditch effort from Lorelai to put something healthy on the plate. So don't expect a fourth generation of Gilmores just yet.