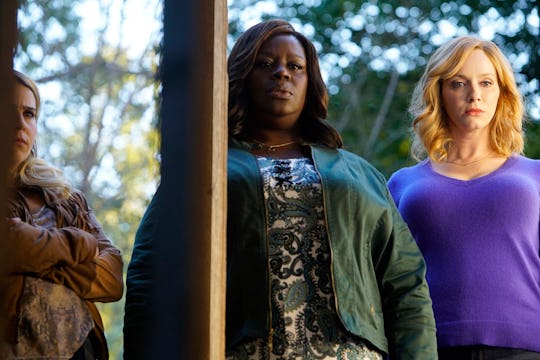 Josh Stringer/NBC
Ruby From 'Good Girls' Will Prove To Be A Very Relatable Character
Now that the Olympics are over, our favorite TV shows are finally returning, along with some new ones. One of those new series is NBC's latest dramedy venture, Good Girls. The series follows three women —Ruby, Annie, and Beth — who decide to rob their local grocery store for a variety of reasons. In Ruby's case, her daughter needs life-saving medical treatments because she has kidney failure, and Ruby can't afford them. So is Ruby from Good Girls based on a real person? Well, the answer to that is: kind of.
There were a lot of influences that went into the making of Good Girl. For show creator Jenna Bans, the idea for the series first came during the 2016 presidential campaign. She told the Los Angeles Times that she was shocked by the now infamous video of President Trump saying he would "grab [women] by the pussy" and the way people would yell "Lock her up!" at Hillary Clinton. However, when she called her mother to share her surprise at the blatant sexism, her mother simply asked her, "Where have you been?"
That conversation led her to think about this idea that women are still perceived as good girls. "The rule followers," Ban told the L.A. Times. "The women who don't rock the boat and do what they're told... and suddenly realize they are in a totally unsustainable situation...that's where I started from." And thus Good Girls was born.
As for Ruby specifically, her personality was actually very much based on Retta, the actress who plays her. In an interview with Variety, Retta revealed that Bans wrote the part of Ruby with Retta in mind. "We didn't know each other, but she followed me on Instagram and would see my stories and the stupid sh*t that I did, and she thought I could do this drama," Retta said. "It was because I live-tweeted The Family [which Bans executive produced]."
However, when it comes to Ruby's story, that's more based on what many families, unfortunately, have to go through. It's hard to go on the internet these days without seeing a crowd source fund for someone's medical bills, whether they have insurance or not. The truth is medical bills are expensive and for many people like Ruby, they just don't have the money to cover it. Families have gone into debt trying to heal life-threatening illnesses, so Ruby's story will most likely be a familiar one to many.
Retta noted that because the premise of the show is the women stealing money, Ruby thankfully won't have to fight for money to save her daughter's life. She did warn, however, that going deeper into the season there is an episode where things "get scary," but she doesn't know "how bad it's going to be." Hopefully, Ruby's daughter will be OK, but unfortunately, as many people know, sometimes these medical situations don't end well.
It's clear that the series is pulling from a lot of sources and many have compared it to Breaking Bad, Thelma and Louise, and Big Little Lies. Still, Good Girls definitely seems like its own show with an incredible cast and very relatable characters. Although these three women will be committing a crime, it's easy to see their side of things and want to cheer for them as they break the law. Hopefully, this is only the beginning for this series and it'll end up becoming a hit and renewed for a second season.
Good Girls premieres Monday, Feb. 26 at 10 p.m. EST on NBC. You won't want to miss it!
Check out Romper's new video series, Romper's Doula Diaries:
Watch full episodes of Romper's Doula Diaries on Facebook Watch.