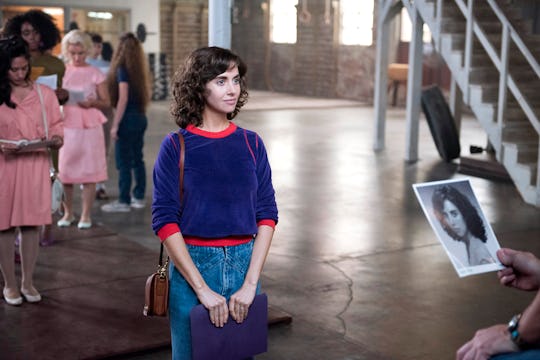 Erica Parise/Netflix
Is Ruth Wilder From 'GLOW' Based On A Real Person?
Netflix's GLOW is set to be yet another hit from the streaming channel. The upcoming comedy has an impressive pedigree behind it. Given that it's executive-produced by Orange is the New Black creator Jenji Kohan and co-created by Nurse Jackie writers Liz Flahive and Carly Mensch (the latter of which also wrote for OITNB), there are obviously many hilarious women behind this series about the real-life 1980s wrestling show. Now, many are wondering how much of the show is rooted in real life — for instance, is Ruth Wilder from GLOW based on a real person?
Ruth is played by Alison Brie, of Community and Mad Men fame, marking Brie's first major role in a comedy TV series since Community ended (still not over that, TBH). Deadline's casting announcement for Brie describes Ruth as "an out-of-work, struggling actress who finds one last attempt to live her dreams when she's thrust into the glitter and spandex world of women's wrestling via a weekly series about female wrestlers." The wrestling league, G.L.O.W. (aka, Gorgeous Ladies Of Wrestling) was a real thing back in the Reagan era of the 1980s. So was Ruth actually a wrestler in the league and on the show?
While G.L.O.W. is absolutely real (and was actually massively popular back when it aired in the '80s for just a few years), it doesn't appear that Ruth is one of the many actresses who played a wrestling "character" in the league. Variety describes GLOW as "the fictionalized story of an out-of-work actress [Ruth]," so while the circumstances surrounding Ruth's involvement in the women's wrestling league may be inspired by real life, there's no actual Ruth Wilder whose story is being told via the show. That makes GLOW distinct from both Kohan's Orange is the New Black (based on Piper Kerman's memoir of her year in prison) and Netflix's other new comedy from earlier this year, Girlboss (loosely based on the early career of Nasty Gal founder Sophia Amoruso).
If Brie's passion for this project is any indication, the show should be a great one. In a recent Entertainment Weekly interview ahead of the show's premiere, Brie described the script as "funny, poignant, dramatic" and maintains that she "fought for this one [role]," after the casting directors "didn't event want to bring [her] in" for it. Also, it features epic '80s hair, makeup, and costumes, like this beauty:
So really, how could the show possibly go wrong?
GLOW releases its 10-episode first season on June 23 on Netflix. And I, for one, am so ready to dive into all the hilarious chaos that's bound to ensue.