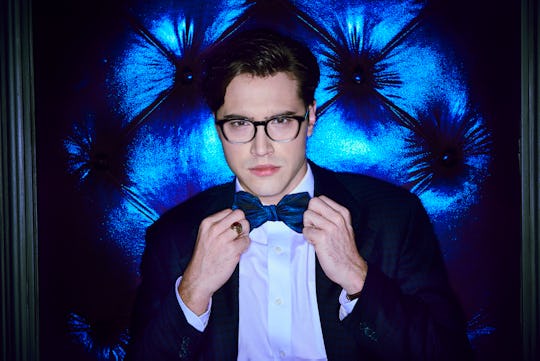 FOX
Is Ryan McCartan Single? The 'Rocky Horror' Star Is Going Through A Tough Moment
The Rocky Horror Picture Show's young virgins, Brad and Janet, are appropriately being played by Disney and Nickelodeon alums in the FOX musical special airing this Thursday, Oct. 20. Victorious star Victoria Justice plays Janet, while Liv & Maddie's Ryan McCartan tackles Brad. If you're familiar with the cult classic, you know that Brad and Janet spend most of the show in their underwear after being stripped by Dr. Frank-N-Furter's houseguests during "Time Warp." Considering that McCarten strongly resembles Darren Criss, some fans may be wondering of the teen dreamboat: is Ryan McCartan single? As it turns out, he is, but only due to a very recent and reportedly painful breakup.
In April of 2016, McCartan announced via Instagram that he'd proposed to his Liv & Maddie co-star Dove Cameron, and that she had accepted. "Dedicating my 1,000th post to my fiancée," he wrote. "I can't believe I get to call you that. Thanks for saying yes." The two met on the show in 2013, and in 2015, began releasing music together under the group name The Girl and The Dreamcatcher. (Oh man, you guys, Disney romance.) The story of their unfolding courtship is about as saccharine as their band name, but just this month, 23-year-old McCartan and 20-year-old Cameron split, calling off their engagement.
"Dove has decided this relationship isn't what she wants," McCartan announced in a tweet on October 6. "We still love each other very much. Please be sensitive, as this is painful."
Cameron has yet to speak out about the breakup, but she did follow up the next day with an airy tweet of her own.
The couple may have split, but they do still have to shoot Liv & Maddie together, as they're both contracted through 2017. Off their home network, however, they're actually starring in competing musical projects. While McCartan landed The Rocky Horror Show: Let's Do The Time Warp Again, Cameron will be performing in NBC's Hairspray Live this December.
It's probably safe to assume that after a three-year relationship-turned-engagement, McCartan likely hasn't bounced back enough to have another partner two weeks later. He's been pretty open about his #feels on his social media outlets, posting a selfie in a Minnesota Vikings jersey to Instagram right after the engagement ended, captioned, "The Vikes might be the only thing that can always make me feel better." So it seems like he's on the mend, thinly veiled overshares aside.