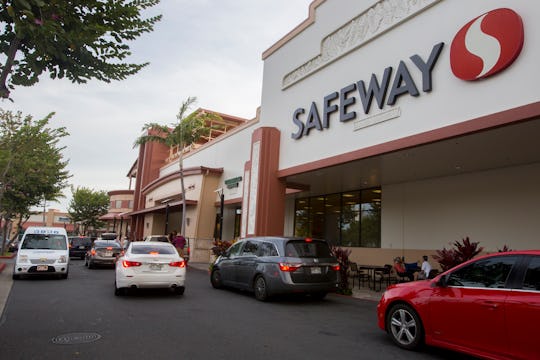 Kat Wade/Getty Images News/Getty Images
Definitely Call Safeway In Advance If You Plan On Shopping There On Labor Day
Labor Day weekend is approaching fast, and that means families all over the US are looking forward to cookouts and downtime. Of course, even the most laid-back gathering requires a little prep work. So is Safeway open on Labor Day for last-minute grocery runs? Running out of hot dog buns could put a damper on your otherwise perfect three-day weekend.
In the United States, it looks like most Safeway locations are open for Labor Day itself, according to Holiday Shopping Hours. That said, it never hurts to double-check with your local shop just to be on the safe side. There are currently 899 Safeway locations in the US, and their hours can vary quite a bit by location, as noted on Safeway's official site. For instance, a Safeway in Alameda, CA is open 24 hours, even on Labor Day. But the Safeway in Scottsbluff, NE is open from 6:00 am to 10:00 pm, as noted on the store's individual website. Granted, either location still gives you plenty of time to shop for anything you might need for your September 3 festivities this year.
For Safeway shoppers in Canada, though, this might not be the case. (Labor Day was inspired by Canadians, and our friends to the north celebrate it the first Monday of September as well, as explained in Bustle.) For the most part, it looks like Safeway locations in Canada will be closed this Labor Day, September 3, according to the Safeway Canada store locator.
Wherever you live, Safeway provides a pretty great assortment of recipes and meal ideas. Many of these meal inspirations are perfect for the unofficial last meal of summer, too. Some citrus barbecued pork chops or cucumber & shrimp summer rolls would make amazing additions to your Labor Day menu, as outlined on the Safeway site. And you can even learn how to grill a watermelon, which must be one of the most summery recipes of all time. Just click through their website's recipe selection for a bit, and you're certain to find a ton of cookout inspiration.
Plus, there's the whole Labor Day sales ad from Safeway that just might make your menu options super easy. With corn, pork loins, and steak on sale, as well as discounts on chips, drinks, and even hot dog buns, this year's Safeway Labor Day ad is all about helping you party. There's even a large selection of discounted ice cream for dessert, because ice cream is the best way to wrap up any party.
With a history dating back to 1915 Idaho, Safeway is basically an American institution, as noted on the company's website. But the longstanding grocer is far from stuck in the past. In fact, customers can now get flexible grocery delivery options at Safeway, as well as the chance to drive up and have your selected groceries at the ready. With conveniences like these, it looks like Safeway will be the grocer of choice for many Labor Day celebrations, as well as regular grocery runs, for many more years to come.