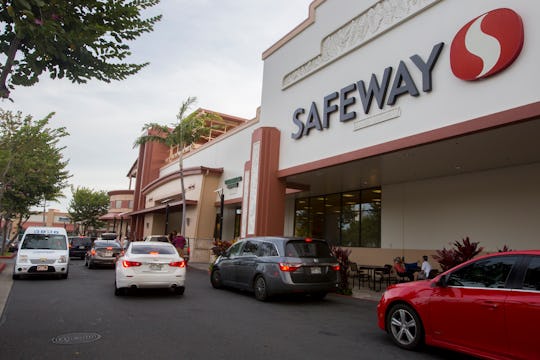 Kat Wade/Getty Images News/Getty Images
Here's One Place You Can Count On To Be Open Thanksgiving Day: Safeway
No matter how perfectly you plan, it's almost inevitable: It's Thanksgiving Day, and you realize you're completely out of butter or you've forgotten the cranberries altogether. Thanksgiving is officially ruined... or is it? Don't worry, you're not the first person to whip out your phone and frantically search if Safeway is open on Thanksgiving 2018.
If you do, you'll be relieved (perhaps even ecstatic) to know that yes, most Safeway stores are indeed open on the holiday and will help you get all those last-minute groceries you need for your Thanksgiving feast. According to holidayshoppinghours.com (and yes, that is a real website), "Most Safeway grocery stores are OPEN" on Thanksgiving. Note that the website says most, and not all. Before you jump in the car and head to your local Safeway, I'd definitely give them a call and ensure they're open. Some locations may also have limited hours, so time is of the essence. If you aren't a frequent Safeway-shopper, a store locator on their website can point you in the direction of your closest one. If you're the resident Thanksgiving Day chef, delegate this urgent shopping to someone else. I'm personally never welcome in the kitchen, thanks to my less-than-stellar culinary skills, so being the grocery store hero is a title I proudly accept, whenever I'm called to serve.
Here's a quick anecdote for anyone who thinks they're too much of a planner to possibly require a last-minute grocery store run: One Thanksgiving, I was tasked with making the rolls. I was given a simple recipe, the ingredients I'd need, and it was literally my only job. Remarkably, I managed to royally screw it up, and somehow the batter ended up looking like a cloudy bowl of soup. (To be honest, I still don't know where things went awry.) Needless to say, I was off to the grocery store to get a new batch of roll ingredients, and this time I wasn't in charge of making them.
The only thing better than Safeway coming in clutch and saving your Thanksgiving meal is saving money on those eleventh hour necessities. Like a lot of grocery chains, Safeway has regular "weekly savings", so keep your eye on that website before and as you're doing your Thanksgiving shopping. Feeding a big family and a hoard of guests is not cheap, so finding affordable products is always appreciated. They've also got various Thanksgiving recipes complete with specific ingredient lists, from honey mustard glazed hams to pumpkin hand pies.
While this may be second nature for most shoppers, I feel compelled to include one reminder: be nice. Thanksgiving is traditionally a day to be with family, eat a decadent meal, and take a turkey-induced nap in your favorite stretchy pants. The people working at Safeway (and all other stores) on Thanksgiving are sacrificing those things to work. Be extra kind to them, no matter how stressed your own Thanksgiving prep is making you. I know how easy it is to be impatient when you have dozens of hungry people back at your house, so this is something we can all be reminded of sometimes.
No matter how thorough your grocery lists are and how diligent you are in your meal planning, it's annoyingly easy to forget something you need on the big day. Thanks to Safeway and their life-saving Thanksgiving hours, there's no need for a holiday meltdown.