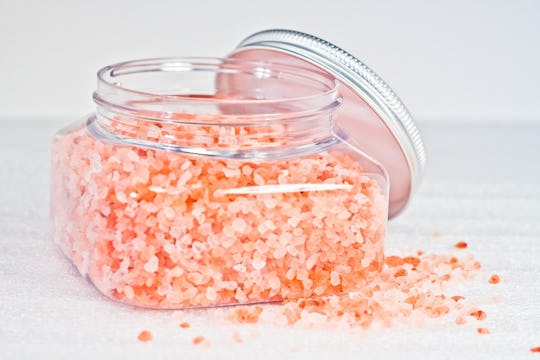 Pixabay
Is Salt Safe For Babies? A Tragic Death In South Carolina Is A Reminder For Parents
A tragic story from South Carolina ended in the death of a 17-month-year-old girl on Wednesday. Kimberly Nicole Martines, 23, has been charged with child abuse and homicide after feeding a teaspoon of salt to her daughter, Peyton — which ultimately lead to the child's death. The case has many moms wondering: is salt safe for babies? Romper was unable to reach Martines for comment, and an attorney had not yet been appointed for her at the time of publication.
Martines' daughter's death was an unthinkable tragedy, but the situation is far more complicated than just a teaspoon of salt. Martines was charged on not just child abuse, but homicide, and had been investigated by child services previously when a pediatrician expressed concern that Peyton wasn't growing normally, according to Newser.
According to an incident report from the Spartanburg County Sheriff's Department, Martines called 911 after her daughter began having seizures in the middle of the night on Sunday, July 31. The next day, medical staff at the Spartenburg Medical Center placed a call to child protective services regarding Peyton, who was having seizures due to high levels of sodium in her blood, a condition called hypernatremia, which can be fatal if left untreated.
Hypernatremia is especially dangerous in toddlers and babies, but it's more commonly caused by dehydration, not because the baby has ingested a lot of salt. But because the levels of salt in Peyton's blood were so high, the doctors who treated her suspected that she had been the victim of acute salt poisoning.
On Wednesday, when the doctors who had been treating her deemed her condition would not improve, she was taken off life support, according to Newser. At this time, the charges against Martines were upgraded from Child Abuse — Great Injury to Homicide by Child Abuse, according to a report from the Spartanburg Sheriff's Office.
Prosecutors on the case have told the press that Martines confessed to feeding her daughter the dose of salt, and that she was motivated to do so by the hopes that it would encourage her husband, from whom she has been separated, to come "back into her life," according to Newser.
Generally speaking, babies don't need any additional salt in their diets. And, as seen in the Martines case, even a teaspoon can have devastating consequences. But sometimes, salt can show up in too-high doses in places that are regarded as being safe, even healthy, for babies. Homemade baby food, especially stuff that's been preserved, can sometimes have too much salt in it, making it dangerous, according to Parents magazine.
Babies get all the nutrition they need from either breastmilk or formula. Whatever it is that you choose to use, it's been created (either by nature or manufacturers that have researched infant's dietary needs thoroughly) to provide the nutrients that baby's need, in the amounts that their tiny bodies can process.
A baby and young toddler's kidneys aren't yet developed enough to handle large amounts of salt. Even when your child starts eating solid foods, you don't need to add any salt. Especially if they're snacking on foods that are heavily processed, like bread, cow's milk and canned goods. One study from the UK revealed that as many as 70 percent of 8-month-old babies were regularly getting more salt in their diets than they needed. Sometimes double what was recommended.
And the recommendation isn't very much at all: for baby's zero to 12 months, less than 0.4 milligrams of sodium is needed each day, and this is easily provided through breastmilk or formula. Over the next three years, that recommended dose goes up to 0.8 milligrams.
One teaspoon of salt has 2,300 milligrams of sodium.
The Martines story is a tragic reminder: baby's have to rely on their parents to know what is safe and what is not. That being said, the investigation is ongoing and there's still a lot that we don't know about what happened and why.
Martines' sister Tiffany told WYFF News 4 that "There's a lot more that went on than people understand... No one should judge her at all, and there's nothing in this world that would make her hurt her babies."
The 7th Circuit Solicitor's Office of Spartenburg responded to Romper's request for info via email, stating that it is prosecuting the case on behalf of the State of South Carolina and that, at this time, Martines does not have a lawyer.
"I'm sure Ms. Martines will retain counsel soon," said Murray Glenn in an email to Romper, adding that currently, "Ms. Martines is detained in the Spartanburg County jail without bond. The case will be presented to a county grand jury in the next 6 months."