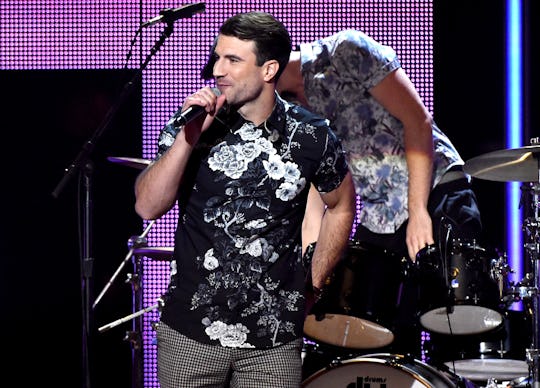 Rick Diamond/Getty Images for CMT
Is Sam Hunt Single? The Grammy Nominee Has Plenty Of Admirers To Choose From
With not one, but two nominations at next week's 58th Annual Grammy Awards, many ladies in the house — and certainly some of the men, too — will want to know: Is Sam Hunt single? The country singer-songwriter made it big last year when his debut album, Montevallo, went double platinum, topped the Top Country Albums chart, and became the eleventh best-selling album of 2015. That's impressive, sure, but when you factor in Hunt's status as a college football star who almost played in the NFL, we have a definite heartthrob on our hands.
Hunt hasn't spoken extensively about his love life, but it appears that the Nashville-based musician is, indeed, single. This might come as a surprise to those familiar with his music, because many of his hit songs, including "Leave The Night On" and "Take Your Time," appear to be inspired by romance. Instead, it turns out that much of Hunt's debut album was inspired by his relationship with his ex-girlfriend.
An August 2015 Billboard cover story about Hunt revealed the ex in question to be a girl by the name of Hannah Lee Fowler, though Hunt himself didn't confirm this. About the unnamed ex, Hunt instead explained,
I spent a lot of time talking to her about the songs and asking, 'What do you think about this?' Her perspective was a powerful part of me being able to connect with a female audience, not just a male audience.
Most reports hold that Hunt has remained single since the demise of this major relationship, but it seems that he hopes bachelorhood will be a temporary condition. In an interview at the 2015 CMA awards, Hunt said, "At some point I'd like to have a little girl, or boy, or both, or several... yeah, I think that's in my future, hopefully."
If Hunt's looking for a potential baby mama, he's got plenty of candidates to choose from. On Twitter alone, the singer has amassed a dedicated (and somewhat obsessed) fan base that seems intent on proclaiming its collective love for the sweet musician:
The Grammys will offer ample opportunity for Hunt's adoring fans to ponder his eligibility, if nothing else — although they'll probably be too busy trying to keep up with his movements at the big award show bash to actually spend any time figuring out his bachelor status. Not only is Hunt nominated for Best New Artist and Best Country Album, but he's also slated to perform a live duo with Carrie Underwood. Perhaps, soon enough, Hunt will be in another type of duo, too.