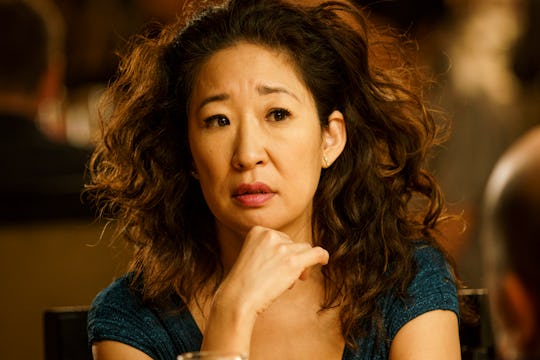 Nick Briggs/BBC
Sandra Oh's Character On 'Killing Eve' Is Nothing Like Cristina Yang
Sandra Oh is returning to the small screen in a new BBC miniseries called Killing Eve. In the show, Oh plays the titular character, Eve Polastri, a desk jockey at M15, the British secret service, who really wants to be a spy hunting down assassins. Since M15 is real, some viewers may find themselves asking: is Sandra Oh's character on Killing Eve based on a real person?
While Eve isn't based on a real person, as far as I can tell, she is based on a literary character. Like many shows these days, Killing Eve, is actually based on the novel, Codename Villanelle, by Luke Jennings. The novel was originally published as the ebook singles: Codename Villanelle, Hollowpoint, Shanghai, and Odessa, before becoming a full -length novel and now TV series.
Eve's character in the novel is a bit different. In the book, Eve was always hunting Villanelle (Jodie Comer), the Russian orphan who was saved from the death penalty and raised to be the perfect assassin. However, one error of judgement costs Eve everything and hunting Villanelle becomes more than just a job, it becomes personal.
In the series, Eve's story is a little more complicated. As a desk jockey, Eve feels stuck. Half-British but born in Connecticut, she used to be fiercely ambitious, mainly to impress her father, whom she adored. She was always fascinated by women in crime, which helped her excel in her degree in criminal psychology. However, after her father died, Eve's motivation died along with him. After going to the U.K. for her father's memorial, she met Niko (Owen McDonnell), who she ended up marrying and opted to stay with him across the pond.
She started workin at M15, spending her time assessing risk, but feels her own life is absent from any risk at all. It's her struggle to find meaning in her work that leads her to secretly start tracking Villanelle. Looking for any kind of action, Eve believes her tracking of Villanelle will only ever be a fantasy until she actually ends up crossing paths with her. Based on the trailer, it doesn't look like this meeting will go well for Eve.
As for Villanelle, her history hasn't changed all that much from the page to the screen. Just like in the novel, Villanelle has a "handler" named Konstantin (Kim Bodnia) who she likes to push the boundaries with. Besides that, Villanelle is content to live her life as a killer, assassinating whoever she's told to kill and then getting paid for doing the job, allowing her to live the life of luxury she's become accustomed. With her level of skill, Villanelle can become pretty much anyone you want her to be, which also makes her quite terrifying. It seems like Eve will be no match for her, but perhaps Eve is actually the only one who can bring her down.
This crime thriller definitely seems to have the makings of a hit series and has a stellar cast, which also includes Fiona Shaw, Sean Delaney, Kirby Howell-Baptiste, and Darren Boyd. The series was created by Phoebe Waller-Bridge and Oh also acts as an associate producer on the series. The show has already received critical acclaim and many fans of Oh's previous work on Grey's Anatomy are excited to watch her return to the small screen. No doubt it'll be worth all the hype with such an impressive cast.
You can catch Killing Eve when it premieres on BBC American on Sunday, April 8 at 8 p.m. EST. Don't miss it!
Check out Romper's new video series, Romper's Doula Diaries:
Watch full episodes of Romper's Doula Diaries on Facebook Watch.