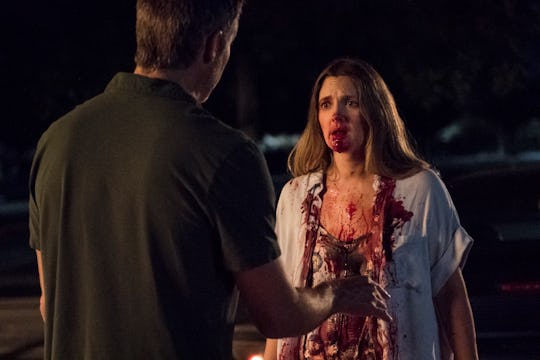 Erica Parise / Netflix
'Santa Clarita Diet' Is Dark, But Brings The Funny
Netflix's buzziest upcoming show Santa Clarita Diet was released on Friday, Feb. 3. But its sneaky early promos were much more concept-driven than the straightforward trailer that was released later on, so some viewers may still be a little confused on the premise. Early promos were structured like diet commercials advertising how energized, beautiful, and confident the show's star Drew Barrymore felt (in character as Sheila) while on the Santa Clarita Diet. Another, featuring her co-star Timothy Olyphant who plays her husband, obliquely implied that her new diet is cannibalism. So is Santa Clarita Diet scary? In fact, the ads serve to mirror the chipper, fun tone of the show.
Santa Clarita Diet is actually a satirical zombie horror-comedy. Yes, Drew Barrymore's character Sheila is engaging in cannibalism, but that's because she's a zombie who requires human flesh to survive. Unlike the typical The Walking Dead type of zombie, Sheila isn't portrayed as a dehumanized monster or a horrible villain. She's actually a loving mom, wife, and hardworking realtor who just so happens to wake up one day as a member of the undead, at no fault of her own. No one even realizes that she's different until some bizarre symptoms begin cropping up after she suffers a rather intense bout of vomiting. First, she stops being able to feel her heartbeat, and then she finds herself craving raw meat. With the help of their next door neighbor, who is an expert on the paranormal, the family pieces together that Sheila has turned into a zombie.
Instead of abandoning her or destroying her in a rash response of fear or disgust, Sheila's husband and teenage daughter decide to rally around her and figure out how to navigate this transition as a family. Of course, the biggest obstacle is figuring out how to keep her fed. No one particularly likes the idea of murder, but Sheila needs to eat to survive. So they decide to only kill really terrible people who deserve to be eaten. This way, Sheila gets to live while performing a service to society.
The tone of the show is darkly comedic, with an affluent suburban backdrop that evokes Weeds or Edward Scissorhands. The bright, cheerful characters and setting combine with the stomach-turning subject matter produce hilarious results. Santa Clarita Diet is heavy on the gore, as its more traditional trailer shows, but it's ultimately a cleverly satirical subversion of the zombie genre and a bold first foray into horror-comedy for Netflix. Plus, with huge stars like Drew Barrymore and Timothy Olyphant at the helm, there's every reason to believe they can pull it off.