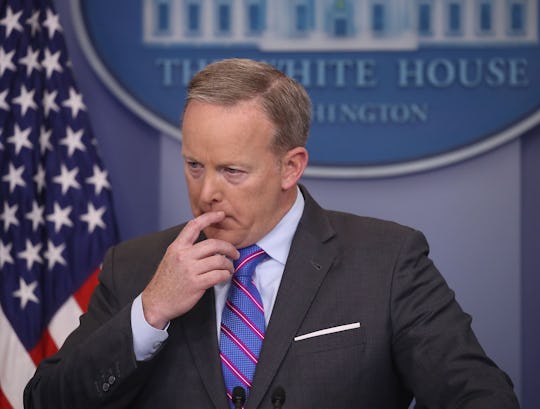 Mark Wilson/Getty Images News/Getty Images
Is Sarah Huckabee Sanders The New Press Secretary?
While the news that President Donald Trump had fired FBI director James Comey was splattered across front pages Wednesday morning, one person was noticeably absent from the subsequent White House briefing. Press Secretary Sean Spicer will not be taking questions this week; Instead, he will be busy with U.S. Navy Reserve duty, according to the White House. While Spicer is out, the press secretary podium won't be empty. So, is Sarah Huckabee Sanders taking over Sean Spicer's job permanently, or is she just stepping in momentarily to put out the flames?
Huckabee Sanders is reportedly only filling in for Spicer for the rest of the week, but not everyone is happy about the job the latter is doing (at least among those outside the White House, officially). That's leading some to speculate that Huckabee Sanders' stint at the lectern this week could serve as something of a trial run. Romper has reached out to the White House for comment on that speculation and is awaiting a response.
As White House principal deputy press secretary, Huckabee Sanders has filled in for Spicer in the past, although this will be the longest number of consecutive days she'll have been in charge since Trump moved into the White House. However, this isn't Huckabee Sanders' only claim to fame. Not only is she the daughter of Mike Huckabee, former governor of Arkansas and Republican presidential hopeful in 2008 and 2016, but Huckabee Sanders also served as a senior aid for Trump's presidential campaign, after the failure of her father's own White House bid.
While Huckabee Sanders is certainly capable of taking over for Spicer, many are upset at the timing of Spicer's absence, which comes around the same time that Comey was fired and as even more allegations have been made regarding Trump-Russia ties.
Huckabee Sanders has, for her part, continuously denied any ties between the Trump administration and Russia, despite Comey himself admitting his former department was investigating that very same thing. As Politico reported,
Trump had grown angry with the Russia investigation — particularly Comey admitting in front of the Senate that the FBI was investigating his campaign — and that the FBI director wouldn't support his claims that President Barack Obama had tapped his phones in Trump Tower.
So today, as Huckabee Sanders held her second-ever press conference, and the first one to happen since Trump fired Comey, critics were a bit displeased at Spicer's absence.
While Huckabee Sanders' presence is (supposedly) only temporary, it does spark some confusion, considering the timing of Spicer's reserve duty. It's no secret that Spicer hasn't exactly had an easy go of it either; He has repeatedly been teased by late-night comedians and heavily criticized for his aggressive manner towards journalists, amid rumors that the White House was displeased (though no White House officials have ever confirmed as much). However, that doesn't necessarily mean he will be stepping down from his position.
As the Trump administration has already lost several government officials, another major resignation or termination would only serve to fuel talk of an internal breakdown, and spark more conspiracy theories, so it's likely the White House would avoid letting Spicer go, if he were in a bit a hot water (which, to be clear, is officially not the case so far). For now, Huckabee Sanders may be the current briefing room fixture — but don't count on her staying there forever.