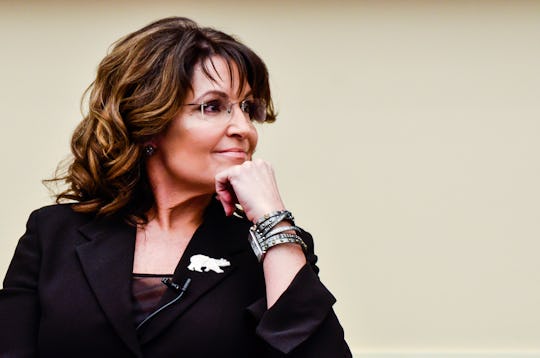 Kris Connor/Getty Images Entertainment/Getty Images
Is Sarah Palin Qualified For Secretary Of The VA? It's An Extremely Important Role
As President-elect Donald Trump's inauguration nears, reports about his Cabinet picks continue to be closely-watched. Many across the country have protested some of Trump's early appointments, like Steve Bannon, former executive chairman of Brietbart, as chief strategist. But new reports that suggest Sarah Palin, former Alaska governor and 2008 Republican vice-presidential nominee, is being considered for Secretary of the United States Secretary of Veteran Affairs will likely have many long-time Palin critics concerned. So, is Palin qualified for Secretary of the VA? It's an incredibly important role.
According to ABC News, a Palin aide revealed that the former Alaska governor is reportedly under consideration to lead the Department of Veteran Affairs. The position is currently held by Secretary Robert A. McDonald, an Army veteran, who served as the president and CEO of The Procter & Gamble Company, and who graduated from the United States Military Academy at West Point, according to his biography on the Department's website.
Palin has not served in the military, and, according to The New York Times, she would be the first non-veteran to hold this position, if the appointment, yet alone Trump's consideration of Palin, is true. Her son, Track, did serve in Iraq.
The former governor was an early and enthusiastic supporter of Trump – cue Palin's notorious endorsement speech insisting there would be "no more p*ssy-footing around" with a Trump presidency.
Earlier this week, the former governor posted a Facebook message, which she also tweeted, showing her support for veterans:
We should be grateful we'll soon have a commander-in-chief who will champion our vets and honor the promises our nation made; a pro-private sector individual who surely understands bigger government is NOT the answer; a President who promised to drain the swamp and clean up all government corruption... all things our vets and active duty troops deserve.
Palin has long-been critiqued for remarks she made during her 2008 vice-presidential run alongside Republican 2008 presidential nominee John McCain. Her 2008 Katie Couric interview in which she cited Alaska being a "next door neighbor" to Russia as her foreign policy experience and her gaffe in explaining the role of a vice president that same year are examples of critiques Palin has received throughout the years.
According to a report by the US Census Bureau, and cited by CNN, there are 18.8 million veterans in the United States. The Department of Veteran Affairs served 5.9 million people in 2015, CNN reported.
It will be important to follow updates from Trump and his transition team regarding his considerations for who will lead the Department of Veteran Affairs.