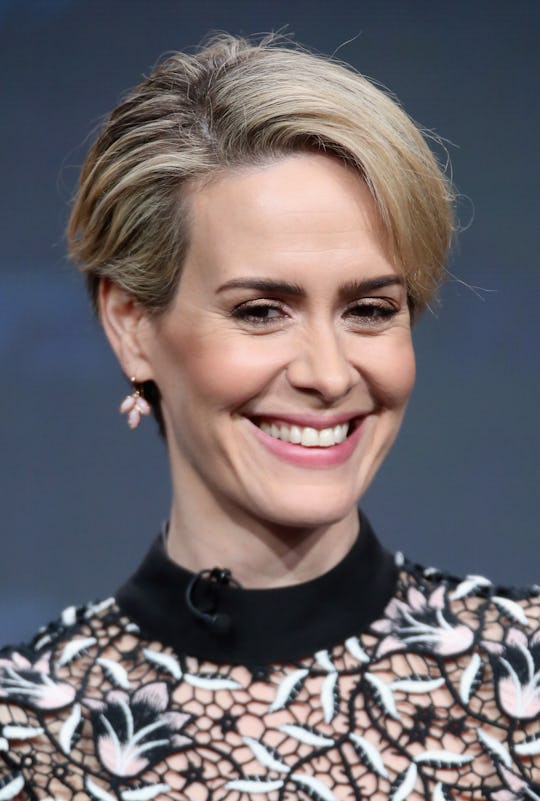 Frederick M. Brown/Getty Images Entertainment/Getty Images
Is Sarah Paulson Returning To 'American Horror Story'? She Has A Busy Schedule
Sarah Paulson hasn't missed a season of American Horror Story yet, though her roles have vacillated through the years from cameos to centerpieces of the entire season. However, taking into account that she's signed on to another series (American Crime Story, which brought her a lot of acclaim) and has an active film career, is it still a foregone conclusion that she'll be back on the show, acting the pants off whatever crazy part she's been given? Is Sarah Paulson returning to American Horror Story?
Though Season 6 has been shrouded in an unusual level of mystery, this is one thing that isn't uncertain: Sarah Paulson will definitely be back. Unfortunately, without an announced theme for the season there's no way to know who she's playing or just how big her presence in the show will be. Paulson isn't spilling any details, either. Though she confirmed her return, she didn't have much more to say besides that. Paulson is as much of a fixture on the series as Jessica Lange was before her departure and trying to imagine the series without both of its leading ladies is not something I'd be down for, so it's a good thing Paulson could fit Season 6 into her schedule.
And a busy schedule it is. In addition to AHS, Paulson is signed on for Season 2 of American Crime Story, which will focus on Hurricane Katrina, and two films set to be released over the next two years: Blue Jay and Rebel in the Rye. It's not a surprise that Paulson found time to film for AHS when she's spoken of her love for the series before. "It's just the best job," she told Vanity Fair in 2013. "I swear, if I could do American Horror Story: Season 940, Vampires in Space, I would totally be there."
Despite the fact that Season 6 will be a big leap into the unknown for the audience, Paulson did drop a little hint during an interview with Gold Derby. When asked to sum up her character in a single word, Paulson cheated slightly and provided three: "Real. Live. Human. And you're gonna see what I mean when you see it."
While it's good to know she won't be playing a ghost again, the second part of her statement is very curious. If her character is a human, that seems pretty cut and dry; how will seeing it make that any more clear?
Knowing AHS, the answer is probably something just crazy enough that no one could see it coming.