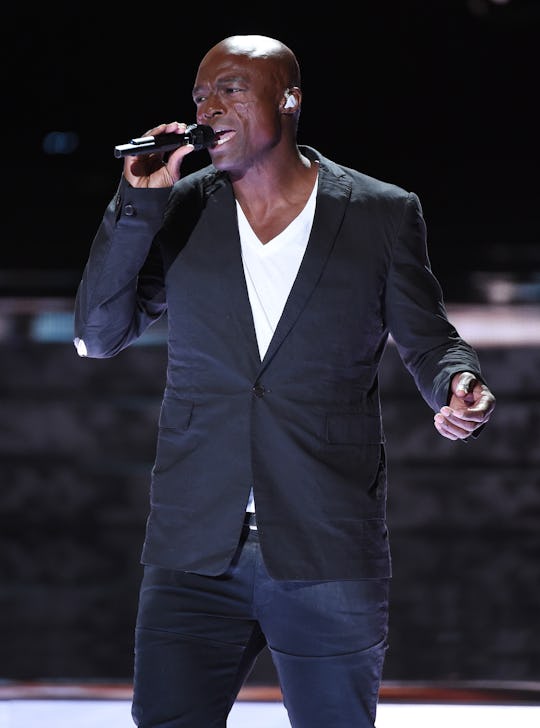 Ethan Miller/Getty Images Entertainment/Getty Images
Is Seal Christian? He's Playing An Important Role In 'The Passion'
British singer-songwriter Seal is making his acting debut in The Passion this Sunday, after over 25 years in the entertainment business. The "Stand By Me" singer will be playing the role of Pontius Pilate in FOX's live Biblical musical. It's quite the role for him to take on as his first acting gig, and some fans might be wondering if Seal took the role due to its religious bent. Is Seal Christian, and did that play into his choice to star in The Passion?
According to Seal's interview on NPR, he was raised religious and still believes in a divine energy. "I went to what they call a Church of England school, primary school, when I was very young," Seal said, referring to the Christian schools across Britain. He added,
And, you know, I came from a sort of typical English family where, you know, my parents did their best to kind of instill the values of religion into us as kids. But they weren't overtly religious and I didn't grow up staunch Catholic or anything like that. But you know, I believe in God, I believe that there is a God. I don't necessarily think he's a grey-haired man with a beard, but I think of God as more of an energy, a divine energy.
Seal's religious beliefs aren't what drew him to The Passion, however. Apparently, the two songs Seal will be singing on the musical were bait enough. "It was the songs that actually drew me to take on the part, because I love that song 'Mad World,'" he told NPR. "And so they kind of lulled me into a false sense of security by saying, 'Oh, you'll sing this song. By the way, there's a little bit of acting involved, too.'"
The musical is a contemporary retelling of the story of Jesus Christ, albeit done in the most modern way possible. The story will take place in New Orleans and features stars such as Jencarlos Canela, Chris Daughtry, and Trisha Yearwood, according to Playbill. All of the songs are contemporary favorites picked out by executive producer Adam Anders (and, yes, that is the man behind Glee). The writer behind the production is none other than Peter Barsocchini, who wrote High School Musical.
Watch the live musical on FOX — either streaming online or on television — starting at 8 p.m. ET. If you miss it live, never fear — Netflix has scored worldwide streaming rights after Fox's broadcast, so you can catch it (or rewatch it!) later on, too.