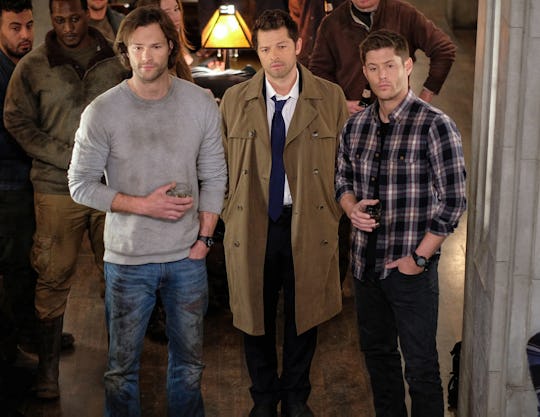 Robert Falconer/The CW
Here's When To Watch Season 13 of 'Supernatural' On Netflix — You're Welcome
If you're constantly checking Netflix to see when your favs will officially be ready to stream, join the club. For Supernatural fans, Season 13 is probably weighing heavily on your mind (for no other reason than I just mentioned it). The Season 14 premiere has arrived with an October 11 air date and if you're hoping to catch up there's a pressing matter: is Season 13 of Supernatural on Netflix?
According to the Netflix website, all 13 Seasons of Supernatural are available, and have been since May 25, 2018. Lucky number 13 has a total of 23 episodes so clear your calendar and watch them all in one sitting. You'll begin with the Winchesters meeting Jack to the surprising cliffhanger I refuse to spoil (you're welcome). This time around, Sam (Jared Padalecki) and Dean (Jensen Ackles) are working to save their mom from an alternate world. As if that's not enough, Lucifer has a more prominent role, somehow getting into Heaven, and per usual, evil lurks pretty much everywhere 24/7 so the pair stays busy.
Some things have come to end in the Supernatural Universe, but there's still so much life in the series — even the potential spin-off of Wayward Sisters — so rest assured, they're not going anywhere for at least another season. As the longest-running show in CW (and The WB) history, Season 14 was picked up in the spring so you'll have more Sam and Dean, or Dean and Sam (however you prefer) to feast on. The news was so huge, even Netflix got in on the hype so you're all set.
If you're planning ahead for Season 14, take note that there will be a required eight day-wait to watch on Netflix after the season finale. After that, all episodes will be up. CW president Mark Pedowitz said Supernatural fans need not worry about when the series will end, saying he'd leave it up to stars, Ackles and Padalecki to decide. Though they don't have producer credits, that's pretty huge to have such a big say in your career — especially in show business. And though Ackles has directed a few times, Padalecki told Variety at the show's PaleyFest event "We're not in it for the personal glory. I have a lot of thoughts on the storylines, but when you have producers like Bob Singer and Andrew Dabb and Eugenie [Ross-Leming] and Brad [Buckner], you kind of just go, 'I'm not the coach.' I signed up as an actor, and I love my job as an actor."
See? No need to stress just yet. "We know what we do, they pay us very well to do it, that would be just a cursory type of thing," Ackles said at the same event. He went on to later add "if it ain't broke, don't fix it" and that's probably why the show's still successful all these years later. Consider this your permission to sit back, relax, and enjoy.
As for how they feel about Season 13, Ackles said he loves going to work everyday to play Dean saying, "[Dean] was certainly out of sorts in the beginning [of this season]. There was a lot of loss in his life, and he was kind of at a loss. He didn't quite know what road to take and how to get there and what to do when he got there." He promised that Dean does find that confidence again and that's when he'll really step up.
Meanwhile in the same season, Sam (Padalecki) struggles with his purpose and not being able to save everyone. "If he saves a million people but fails at saving three, he's going to focus on the three," Padalecki said at the event. He later added Sam's "going to the nth degree this season to give it all he's got and try to make this world a better place, and to me, that's exciting."
If you haven't gotten caught up on all things Winchester, now's your chance to redeem yourself before Season 14 airs. Seriously. It's the right thing to do.