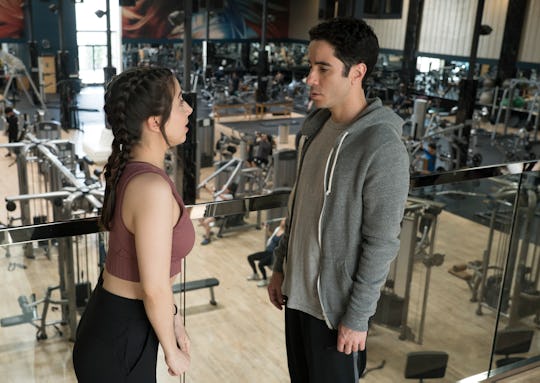 Eric McCandless/Freeform
Season 2 Of 'Alone Together' Is Here & Ready To Stream
Freeform's comedy, Alone Together, is back with an all-new second season, and fans are excited to revisit their favorite misfit millennials, Benji (Benji Aflalo) and Esther (Esther Povitsky). New back-to-back episodes will premiere on Wednesday, August 1 at 8 p.m. on the Freeform network, but fans want to know if they can find it on a streaming platform. Is Season 2 of Alone Together on Hulu or any other streaming platforms?
Season 2 of Alone Together is currently available to stream in its entirety on Hulu and through Freeform's mobile app and website, along with all of Season 1. As of now, you won't find the comedy on any other streaming services other than Amazon Prime video, where Season 1 episodes are available to purchase.
If you've never watched the show, it's the perfect time to dive into the friendship of Benji and Esther, two platonic buddies who are trying way too hard to fit into L.A.'s cool crowd. As they tackle the brutal social and professional scene in the city, with simultaneously loving and insulting quips at hand, the two always manage to have each other's backs. In a synopsis for the series, Freeform says, "their odd friendship continues to baffle everyone around them, as they continue to find their place in Los Angeles, juggling odd jobs, their love lives, and aspirations of social status."
The show was created by Aflalo and Povitsky and inspired by their own experiences as stand-up comedians trying to make it in L.A. In an interview with Hollywood Life, the two talked about the experiences that inspired some of the shows story lines, and why their characters' relationship would remain platonic like theirs in real life. "It's a buddy comedy. It's not a will they, won't they. It's not a love story," said Povitsky. "I feel like people are confused by that because when they see a man and a woman together and they think that they have to be together and the man only wants to be with the woman is because he wants to sleep with her." She adds that theirs is a story of true friendship, one that doesn't involve any kind of romance to tie it down.
The first season featured guest appearances from stars like Denise Richards and Pauly Shore, and the second season has more celebrity action in store. According to a press release from the network, Fran Drescher (The Nanny) is joining the cast as Mary, Esther's "perfectly coiffed" and "tastefully put together" mother. Community star Danny Pudi and Saturday Night Live alum Abbey Elliot will play Chris and Megan, a married couple whose "boringness is thrown off by Esther and Benji's eccentricity." And Carmen Electra (Baywatch) will fill the role of Tia, "a beautiful and mysterious woman who seduces Benji."
Adam Ruins Everything star Punam Patel will also join the cast with a recurring role as Tara, "Esther's friend from acting class six years ago." As Benji and Esther return to their life of aspiration and rejection, cast regulars Chris D'Elia and Ginger Gongaza are set to return as Benji's pretentious older siblings. And comedian Edgar Blackmon is reprising his role as their best friend Jeff, with Nikki Glaser returning as Annette.
So while most of your favorite shows are on hiatus for the summer, the new season of Alone Together could easily become satiable summer fare. All 10 episodes of Season 2 are available to watch on Hulu, along with the first 10-episode season. You can also stream episodes directly from Freeform, or watch the network's back-to-back airing which begins at 8 p.m ET on August 1.