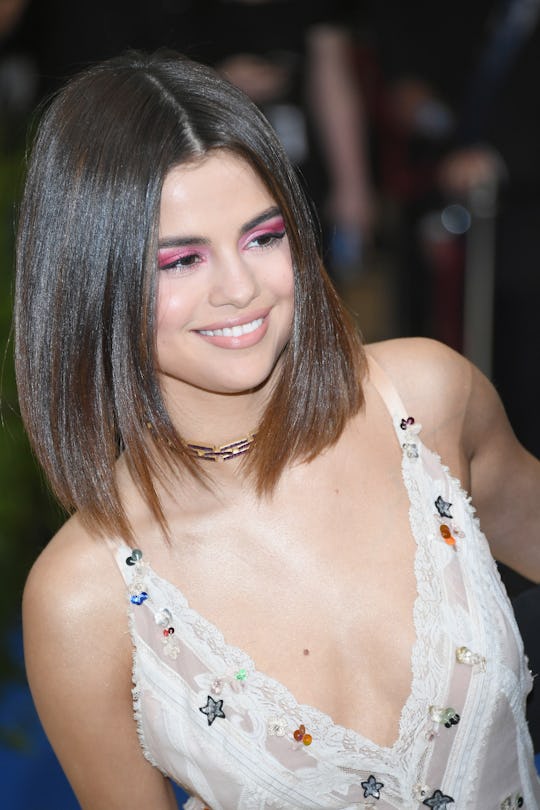 Dia Dipasupil/Getty Images Entertainment/Getty Images
Fans Are Looking For Selena Gomez At The Grammys. Did She Show?
It has been a busy year for Selena Gomez, even though she didn't release any new music. She produced Netflix' 13 Reasons Why, had a kidney transplant, and is reportedly back with her former flame, Justin Bieber. It's common for musicians to attend award shows even when they're not up for any awards (see: DJ Khaled), but Selena Gomez wasn't at the 2018 Grammys on Sunday night, which was sort of to be expected.
According to TMZ, Bieber is busy working on an album and has pledged to not attend any award shows until he has new music to promote and perform, which means that the 2018 Grammys red carpet was not going to be the the place for them to make their debut as a newly re-minted couple anyway.
A lot of fans felt that Gomez was snubbed by the Recording Artists Academy, given that her music ruled the airwaves all year. She didn't have an album, but she did have a few singles, such as "It Ain't Me" and "Bad Liar" that led her to be the most streamed female artist of the year, according to Spotify.
Alas, that just wasn't enough for a Grammy nod. Gomez hasn't been nominated at all throughout the course of her career, so in some sense, her absence on Sunday night isn't so surprising, even if we were dying to see her out and about on the red carpet, like that one time she came as Taylor Swift's date.
Just because she's been "laying low," as she put it in an Instagram post this fall, doesn't mean she's not still planning recording new music soon. Gomez said in an interview with Nick Grimshaw on the BBC's Radio 1 Breakfast show that she's getting her groove back after a busy year.
I think it's fair to say that people know the year I've had. I pour my heart into my music. It wasn't really about charts for me or numbers. It was about what I could creatively do for my music. I can successfully say that my inspiration for this next album is in full motion and it will be very soon.
Despite topping those charts and her executive producer credit for Netflix, her health struggle this summer was no joke. Due to lupus complications, Gomez needed a new kidney and luckily, her BFF Francia Raisa was there to offer one. They announced the transplant in September. She wrote in an Instagram post:
I'm very aware some of my fans had noticed I was laying low for part of the summer and questioning why I wasn't promoting my new music, which I was extremely proud of ... I honestly look forward to sharing with [fans], soon my journey through these past several months as I have always wanted to do with you.
While fans cheered her recovery, they also took over Twitter when the nominations were announced to express their anger that she wasn't even included as a performer, but neither were a bunch of young performers in her squad, such as Taylor Swift or Lorde, whose tribes are equally upset that they weren't included in the lineup on Sunday. Lorde's mother actually spoke out publicly against the Academy, suggesting that her daughter's omission was sexist:
Selena was definitely missed at the Grammys on Sunday night, but it's totally understandable why she decided to sit the night out if she felt like she didn't have any business, like performing or promoting, to do there. Hey, maybe Selena and Justin watched it together and plotted their takeover for next year.
Check out Romper's new video series, Romper's Doula Diaries:
Watch full episodes of Romper's Doula Diaries on Facebook Watch.