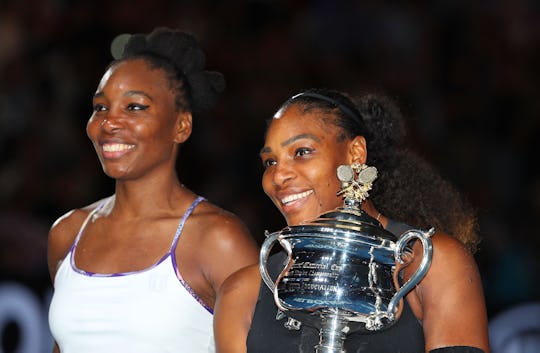 Scott Barbour/Getty Images Sport/Getty Images
Is Serena Williams Really Having A Baby Girl?
Looks like we might not have to wonder much more about whether Serena Williams' baby is a boy or a girl given that her sister, Venus Williams, may have dropped a major hint that could reveal the gender of her bundle of joy. So will the 36-year-old tennis pro be the aunt of a sweet little niece or an adorable nephew? A slip of the pronoun "she" suggests that Serena and husband Reddit co-founder Alexis Ohanian are expecting a daughter.
UPDATE: In a statement on Instagram Thursday, Serena herself reiterated that neither she nor her family knew her baby's gender: "I think the surprise of knowing what you are going to have on that very special day you give birth is prob the best surprise you can ever have! 😍 So to clarify what Venus said, I am always joking with my sisters to see what favors I can get them to do for me next. If I want something from one of my sisters, I say baby Venus, baby Lyn, or Baby Isha needs it. I did not grow up with any brothers, only sisters, and we all say 'she' more than 'he'. Unless I'm joking with my dad or Alexis and I'm trying to con something out of them too. 🙈 Hey, I'm the youngest [of] 5, I've always tricked all of them, what can I say!"
EARLIER: In an interview with Eurosport during the French Open on Wednesday, Venus didn't necessarily hold back when she was asked which cute variation of her soon-to-be aunt title she wants her sister's firstborn to refer to her as.
"She's going to call me favorite aunt," Venus said during in the Eurosport interview, according to a clip of it shared by The Shade Room on Instagram. "Of course it's like every day we're like baby V, baby Isha, baby Lyn. We all want the baby to be named after us."
That's right. Venus said "she" and suggested baby names for other female family members when she referred to Isha and Lyndrea "Lyn" Price, who are both half sisters to Serena and Venus. While this may seem like a major clue, nothing has been officially confirmed about whether Serena is expecting a baby girl.
Perhaps the parents-to-be want the baby's gender to be a surprise and Venus just has a "feeling" that she'll have a niece soon. Or perhaps they do know and this reveal was also an accident.
Back in April, the tennis champ mistakenly revealed the news of her pregnancy on her Snapchat story with a photo of herself wearing a yellow bathing suit turned to the side to show off her stomach, which she captioned "20 weeks." She quickly deleted the post from her account, but later confirmed that she was indeed pregnant.
"You know how social media is — you press the wrong button and... 30 minutes later I missed four calls and I'm like, 'That's weird,'" she told CBS This Morning co-host Gayle King during an interview in late April, and added that she was simply trying to save the photo to her phone.
Life is messy and things don't always go as planned. And especially when you're in the spotlight, it's hard to recover from what could have been an innocent slip of the tongue by an excited aunt-to-be. However things unfold in the coming months, it's clear that Serena is a really good sport about it all.