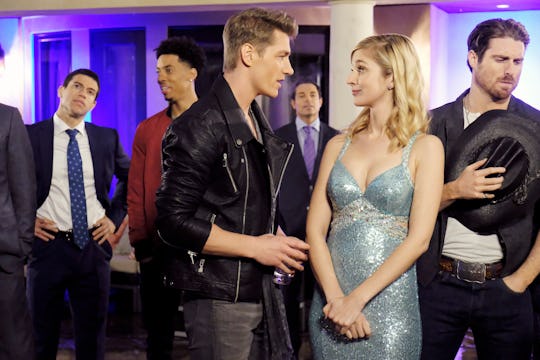 Bettina Strauss/Lifetime
Everything 'UnREAL' Fans Need To Know About The New Star Of 'Everlasting'
Lifetime's UnREAL returns on Feb. 26, and it brings with it some major changes. For the past two seasons, its Bachelor-esque show-within-a-show Everlasting has been headlined by male suitors. This time, however, a woman named Serena Wolcott is the star. But is Serena Wolcott from UnREAL based on a real person? Since the show's initial inspiration did come from a preexisting series, it's a natural question to ask.
Serena, as played by Caitlin Fitzgerald, is a venture capitalist who promises to challenge the parameters set up by the people running the show from behind the scenes. In the trailer for the season, Serena is described as "hot, sexy, smart — but single," which could make her the perfect choice to lead Everlasting. That is until she steps in front of the contestants and announces, "From this moment forward, the only rules are the rules that I make." Quinn and Rachel won't be too happy about that.
Serena proves to be a challenge in more ways than one, but there's no indication that a real woman served as the inspiration for the character. There have been plenty of past Bachelorettes to choose from, but Serena doesn't quite match up with any of them.
There isn't much information about Serena ahead of the Season 3 premiere, except for the fact that she might cause some serious trouble for Rachel and Quinn. But any regular viewer of the show could have guessed that — UnREAL wouldn't be UnREAL without a healthy helping of drama both in front of the fictional camera and behind it. There are also high stakes when it comes to Serena: Everlasting is in danger of cancellation, so it seems their first-ever female contestant is a ratings grab that could sink the show or let it swim on freely.
The Bachelorette is the easiest place to look for possible inspiration because the real life dating show is so very similar to the fictional counterpart on the Lifetime series. But unlike Everlasting, a female lead is nothing new in the Bachelor franchise. The lady-led spinoff is so popular that it alternates seasons with its originator, and it just finished up its thirteenth cycle.
Of those 13 ladies, there have been plenty of blondes and even a few rule-breakers, but no one quite like Serena. Past Bachelorettes have been sales reps, real estate agents, and attorneys; there have been models and stay-at-home moms, too. None of them have been a venture capitalist, however. It's possible that Serena is an amalgamation of many former contestants, sharing a quality or two with many of them, but it's just as possible there's been no impact from The Bachelorette at all.
Showrunner Stacy Rukeyser told Film Daily that they'd had the idea for a feminist "suitress" early on in the development process, and it came from a very personal place. The fact that Serena is in her 30s, single, and has an impressive career resonated with Rukeyser, who was in a similar situation prior to her own marriage. It seems like she wanted to explore the fact that qualities like that could be considered "terrifying" for men even though they really, really shouldn't be. That drew her to Serena. Rukeyser said:
When you say a smart, strong woman can be terrifying to men, I think that's really right, and it's maddening and unfair. As women we're taught at work we should be aggressive: "You go, girl!" and "You lean in!" and "Get a seat at the table!", "Demand equal pay!" and "reclaim your time!" and all the rest. But when we're on a date, we're expected to magically transform into this other creature who is much more demure in a much more traditional definition of femininity — perhaps with fewer opinions! So that's really confusing; thank god there are some men out there who aren't frightened by strong women.
There are so many different, unexpected places that inspiration can come from that it's hard to guess from the outside who or what might have led to the creation of Serena. The people who work on UnREAL (including Fitzgerald, who brings Serena to life) haven't spoken publicly about any real people she was based on. It seems like Serena is truly fictional, an invention of the show intended to shake things up and give the morally gray protagonists a new challenge to face. And it seems like she'll definitely be doing that when Season 3 premieres.
Check out Romper's new video series, Romper's Doula Diaries:
Watch full episodes of Romper's Doula Diaries on Facebook Watch.