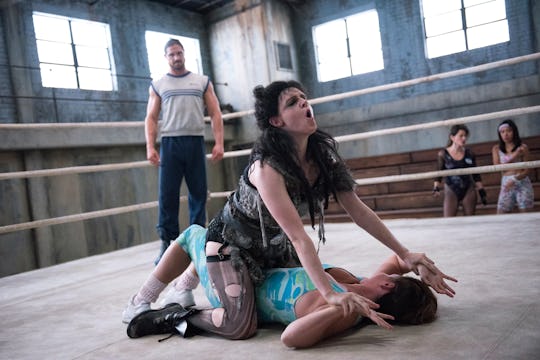 Erica Parise/Netflix
Sheila the She Wolf From 'GLOW' Is A Breakout Role
If you're already suffering withdrawal from polishing off Orange Is the New Black all in one, sweaty weekend, Netflix has another Jenji Kohan-helmed project coming your way this month. She's an executive producer on GLOW, a fictional origin story for the real-life 1980s wrestling promotion of the same name. The Netflix series follows a group of actresses, models, dancers, and stunt women, all trying to break into Hollywood by signing on to a women's wrestling show. Among the performers is a "species dysmorphia"-suffering woman named Sheila, but is Sheila the She Wolf from GLOW based on a real person?
While GLOW was a real wrestling show that ran from 1986-1992, and while it did come together much like how it's depicted on the Netflix series, the characters created by showrunners Liz Flahive and Carly Mensch are all fictional. So Sheila the She Wolf was never a wrestling character on the real GLOW. On the Netflix series, she's played by Gayle Rankin, a Scottish actress with a hefty classical acting resume, who is just starting to pick up speed on-camera. She had a film premiere at Cannes this year, and her role on GLOW is her first recurring TV gig. Luckily, the part is pretty stylized, so Rankin seems like the perfect fit.
Sheila, who believes she's a wolf, is one of the show's more off-beat women, which makes her a shoe-in for a wrestling show seeking "unconventional women," as an agent in the trailer puts it, to play over-the-top, stereotyped characters. Hence, Sheila the She Wolf is born. You can catch a few glimpses of her in the trailer with her trademark raccoon eyes (it gives a wolfy effect, trust me), and wolf ears. In one scene, she gives Alison Brie, who stars as Ruth Wilder, a pep talk for encountering her nemesis based on wolf social hierarchies.
To prepare for the role, Rankin and her other co-stars trained with real life, six-time WWF/E champion wrestler Chavo Guerrero Jr. for a month leading up to filming. Said Rankin of the experience in an interview with W Magazine:
I felt only these women, in particular, could make this show. They care so much about us that they're willing to be like, 'Go forth and do that thing! Go fight! Go kick someone's ass!' Which is inspiring.
The show is poised to adopt an OITNB-esque framework, in which Ruth is the vehicle for the ensemble cast's stories to be told. You can catch GLOW when it hits Netflix starting Friday, June 23.