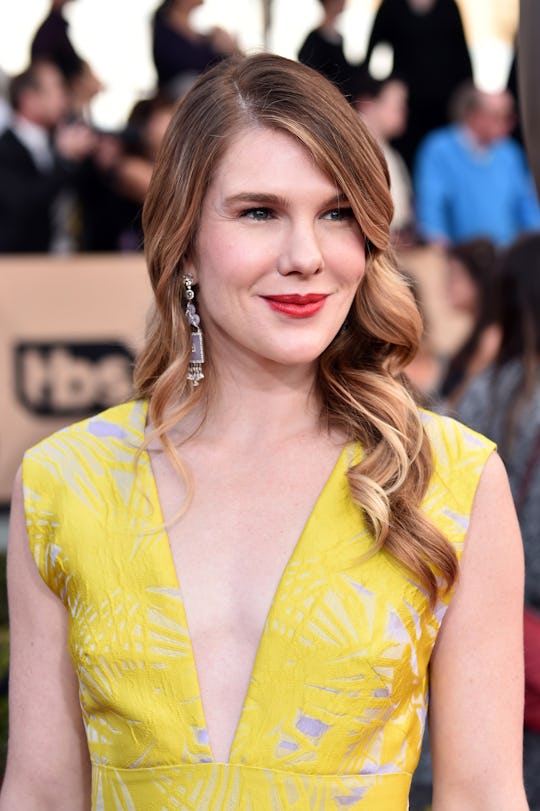 Alberto E. Rodriguez/Getty Images Entertainment/Getty Images
Is Shelby Real On 'American Horror Story'? The Show Often Takes Inspiration From Real Life
At the beginning of American Horror Story Season 6's very first episode, a message flashed on screen: "The following story is based on true events." The events that transpire after that are presented in documentary format, with married couple Shelby (Lily Rabe) and Matt (André Holland) speaking directly to the camera in a talking head format while two actors playing them (Sarah Paulson and Cuba Gooding, Jr.) act out everything they're describing. But how deep does the meta go? Are the events of the series fictional, but just referred to as "true" to preserve the documentary style (a la The Blair Witch Project)? Or was this actually based on something that really happened? Is Shelby real on American Horror Story?
AHS has often depicted real people or characters inspired by real people during its run. AHS: Hotel was populated by a mix of both: there were vampirized versions of real people like Rudolph Valentino and Natacha Rambova, and Evan Peters' Mr. March was inspired by real life serial killer H. H. Holmes. Even Season 6's Roanoke setting harkens back to a real location with a real mystery attached to it. But are Shelby and Matt Miller a real couple who were terrorized while living there? That's less clear. Romper reached out to FX about whether or not the season is based on a true story but did not hear back at the time of publication.
One thing is for sure: Shelby and Matt's house isn't real. It was built specifically for the show over the course of four months. It's not even really in North Carolina; it's in California, where the series films. That's perhaps the first tip-off that Shelby and Matt aren't based on real people, particularly because there doesn't seem to be a real location in NC that inspired this particular house. There also doesn't seem to be any record of a married couple dealing with a major haunting in Dare County (which Roanoke Island is a part of, and which was named after one of the lost settlers).
In my opinion, the warning at the opening of the episode was merely part of the show within a show, My Roanoke Nightmare. All sorts of true crime and real life ghost story shows start with similar messages to built up anticipation and add to the scare factor. If the audience thinks there is some truth at the root of the horror, then it feels all the more real; if it happened to these people, maybe it could happen to the audience, too.