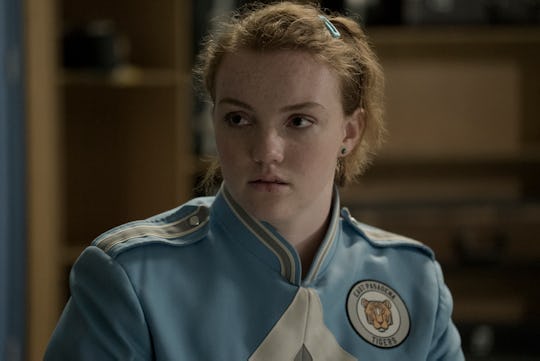 Aaron Epstein/Netflix
Here's What We Know About The Inspo Behind 'Sierra Burgess Is A Loser'
Sierra Burgess Is A Loser certainly seems like it could be an adaptation of a popular YA novel. The long title is a tip-off, but the plot feels like it was lifted from the page, too. It follows Sierra as she becomes embroiled in some unplanned catfishing: a cute boy named Jamey texts her thinking she's someone else, and Sierra has to figure out how to tell him the truth without ruining everything. But is Sierra Burgess Is A Loser based on a book?
The story sounds reminiscent of many teen movies and books that have come before it, but Sierra Burgess isn't actually based on a book. It's an original movie inspired by Edmond Rostand's play Cyrano de Bergerac, and its screenplay was written by Lindsey Beer. Much of it came from a very personal place for Beer. She chatted with Hypable about what led her to write the script, explaining that a mix of different things eventually became Sierra Burgess.
Several of the characters and themes came from Beer's life, including the protagonist and her rival-turned-friend Veronica. But Beer's experiences in high school became important to the story, too. She wanted to explore the struggle many teenagers have to define themselves as individuals despite the expectations heaped on them.
"I just remember so clearly the pressure of trying to get into the right college and wanting to be my own person and not just follow in the parents' footsteps and not just do what my friends were doing," Beer told Hypable. "All that kind of stuff was definitely very much rooted in personal experience."
Deciding to base the story on Cyrano was personal too, but in a different way. Beer had studied the play in French when she was in high school and excelled on related tests, but it faded to the background until years later when she went to see a production. Beer said that everything clicked: Cyrano "just felt so right for retelling," especially from a female perspective in a modern era.
...it just seemed to me like, given innovations in technology, there were ways to tell the story that were just so apt for dating in the modern era. It also felt to me like the themes and predicaments just applied so much more poignantly to women. It was a character that we haven't really seen before portrayed by a woman where they were confident and smart and defined themselves by their wits and not by their looks. The whole thing just kind of sank in… in one moment, like "A-ha! This is the story I need to write and could have personal significance as well." That's where it comes from.
In Cyrano, both the title character and his handsome friend Christian de Neuvillette are in love with a woman named Roxane. Cyrano has many talents, but he still feels unworthy of Roxane because she's beautiful and he isn't. He decides to help Christian woo Roxane instead by writing letters in his name and feeding him lines. Though Roxane comes to feel that she would love the letter-writer regardless of their looks, Cyrano conceals the truth so that she can maintain her ideal view of Christian after his death. It's years before Roxane finds out, and by then it's too late.
Sierra Burgess is bound to be a little different — the genders of the characters have been flipped and the story brought forward in time. It's unlikely that anyone will suffer a noble death. And from the trailer, it doesn't look like both girls are vying for Jamey's heart, even if Veronica agrees to be the face of their flirtations. The frame of the story is there, but it has been reworked into something new.