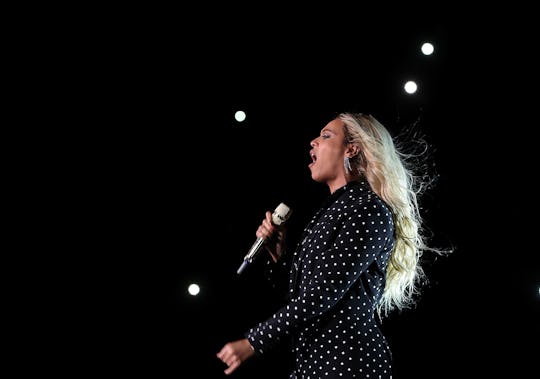 Justin Sullivan/Getty Images News/Getty Images
Is Sir Named After Someone?
Since it was revealed a few weeks ago that Beyoncé had reportedly given birth to the long-awaited twins, fans have been eagerly awaiting news of the babies' names. While reports have varied, with some suggesting that the babies' names are Shawn and Bea after Bey and JAY themselves, now TMZ is reporting that the Carter twins are actually named Rumi and Sir. But the question remains: Is Sir actually named after someone?
We don't know if the name Sir has any deep significance to the couple yet, but we do know that it's pretty freaking rare. According to Babycenter, only 1,282 babies in the United States have been born with the name Sir since 1880, or a little more than 125 years. That's probably because the name is more often associated with an honorific like "mister" or "gentleman" than it is with an actual name.
That said, Bey and JAY aren't the only ones to use the name. On the TV show Louie, Pamela Adlon's character Pamela, who is one of Louis C.K.'s love interests, has a son named Sir. "I always thought it would be funny if I called my son 'Sir.' Like calling your daughter 'Ma'am,' or something like that," she told Vulture.
Although Bey reportedly gave birth to the twins earlier this month, with TMZ reporting on June 17 that she had spent the week in a Los Angeles hospital, there are few details available about their birth, despite intense speculation on the internet. Some suggested that the babies were named Shawn and Bea after Bey and JAY themselves, which drew intense criticism (although some of us were more than OK with it).
While Rumi and Sir are unique baby names, they're not quite as overtly self-referential as Shawn and Bea. But since Beyoncé is notorious for imbuing every detail of her life with intense symbolism, from the iconography in her visual album Lemonade to her pregnancy announcement itself, it's likely that the names Rumi and Sir have deep significance nonetheless.
That said, Bey likes to keep the meaning of her babies' names a heavily guarded secret. In fact, we still don't really know for sure why she chose the name Blue Ivy, even though after she was born, Bey posted a screengrab of a quote from the writer Rebecca Solnit on her Tumblr, which says "The light that gets lost, gives us the beauty of the world, so much of which is in the color blue."
Ultimately, we don't know why Bey chose Rumi and Sir as baby names, but we do know that, according to TMZ, the Carters have filed trademarks for the names Rumi and Sir Carter, which will apply to "fragrances, cosmetics, key chains, baby teething rings, strollers, mugs, water bottles"...basically, every item on the planet.
Will you have to shell out your hard-earned cash to the Carters every time you address someone as "Sir"? Given that it's a standard English honorific, probably not. But let's extend a a hearty Mazel tov to the Carters for their adorable baby names and a warm welcome to the twins themselves, who are now an indelible part of the Carter empire.