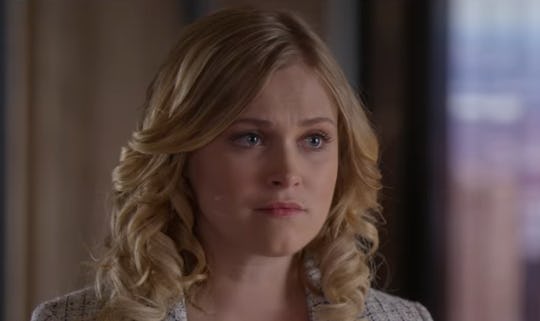 Netflix
Netflix's 'Christmas Inheritance' Will Give You Serious Stars Hollow Vibes
After the surprise success that was A Christmas Prince, Netflix has now released another Christmas movie. Christmas Inheritance stars Eliza Taylor (The 100) as Ellen Langford, an heiress who must prove to her father she can take over his business. In order to do so she travels to the hometown she never knew, Snow Falls, to give her father's former partner and her uncle, Zeke, a special Christmas card. But is Snow Falls from Christmas Inheritance a real place?
In the movie, Snow Falls is a cute, small town that gives me serious Stars Hollow vibes. While it's definitely a place I'd love to visit for a bed and breakfast, Snow Falls, unfortunately, doesn't actually exist. Still, you can fully immerse yourself in the experience of what it would be like there by watching a Christmas Inheritance. In order to please her father and hopefully secure her spot as the company's next CEO, Ellen sets out for the quaint town. Of course, her trip doesn't go quite as smoothly as she hoped.
First, as soon as Ellen gets there, her luggage falls out of her suitcase and into the snow. Then, it turns out her uncle just left right before she arrived. Determined to get the job done, Ellen decides to stay, but then a massive snow storm hits, trapping her there. Thankfully, there's a cute guy around to keep her company. Too bad she's actually engaged to someone else. Yikes!
On top of the love triangle, for some reason Ellen also decides to keep her true identity a secret so that she can be a "normal person" while staying in Snow Falls. From the trailer, it's clear that over the course of the movie Ellen learns the true meaning of Christmas, or the true meaning behind her father's company. Truly it's hard to really know what Ellen will be learning here. The point is, Christmas Inheritance has all the necessary features that made A Christmas Prince a success and definitely deserves to be your next holiday movie obsession.
You've got secret identities, complicated love interests (because let's face it, Ellen's fiancé is just there for the drama), and a snowy backdrop to give you that much-needed Christmas vibe. If there's a proposal at the end of this movie, I wouldn't be at all surprised. Thus, Netflix has successfully churned out another Hallmark-esque Christmas movie that fans will surely love as much as they loved A Christmas Prince.
Whether you've watched A Christmas Prince every day or just saw it once, most people can agree that while it's not an award-winning film by any means, it's still pretty great. The plot is predictable, the romance is much too easy, and there's so many plot holes people have made articles simply focusing on that alone. Still, whether it made you laugh, cry, or feel frustration at how ridiculous it all is, it's been and continues to be a fun watch for many, especially around this time of year. And it looks like Christmas Inheritance will be just as good if not better than its predecessor. I know that I personally plan on watching it over the weekend and I'm pretty sure I won't be the only one.
Both A Christmas Prince and Christmas Inheritance are now streaming on Netflix. So grab your hot chocolate, your best pair of cozy pajamas, and get to watching this immediately. If this isn't enough to put you in the holiday spirit, then I'm afraid nothing will.
Check out Romper's new video series, Romper's Doula Diaries:
Watch full episodes of Romper's Doula Diaries on Facebook Watch.