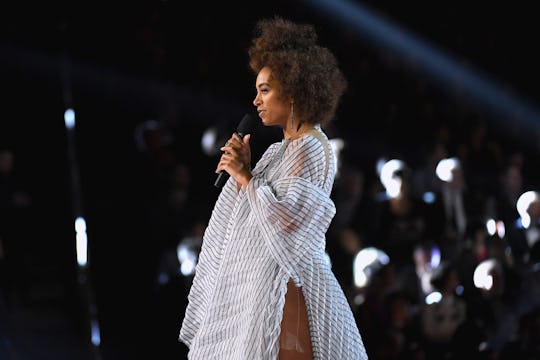 Kevork Djansezian/Getty Images Entertainment/Getty Images
Is Solange Knowles Married?
Solange Knowles has been in the media a lot lately, what with hosting events at the Guggenheim museum and the anticipation over the fact that her sister, Beyoncé, is due to give birth to twins soon. Knowles hosted an event at the Solomon R. Guggenheim Museum on Thursday, entitled "An Ode To," described as a reimagining of her 2016 album, "A Seat at the Table" by the New York Times, and she's likely set to become an aunt again to her sister's twins in a short time. Her artistic activities and familial milestones have led people to re-examine the artist, and that sort of attention in the news often leads to questions about an individual. In particular, people are wondering: is Solange Knowles married? She is, and has been once before too.
The New York Times reported that Solange's "An Ode To" project, "was something of an experiment for Solange," and during the finale of the event, she expressed gratitude for having "the space to grow and evolve and explore new mediums." She's got a lot going on lately, and having room to grow is certainly a big part of that.
According to She Knows, Solange married her high school sweetheart Daniel Smith when she was just 17 years old, and the marriage ended four years later. She is now married to Alan Ferguson, a music video director — the two started dating in 2008, and are still together.
According to Ebony, Solange wrote a letter to her younger self for Teen Vogue, and in it, she "reflected on the moment when she became a teen mom," with her first husband. In it, she wrote:
Seventeen will be the hardest year of your life. It will grow you up almost immediately. You will lose your best friend whom you love so much to gun violence in a single moment, and give birth to a new one within a year.
According to Ebony, Solange welcomed her son, Daniel Julez, in October of that year she wrote about. It's clear that the beginning of her first marriage was rough, and it's great that she found love again after with Ferguson and seems so happy now.
And speaking of welcoming a baby, according to Vanity Fair, Solange will become an aunt again "any day now," as there are some reports that her sister, Beyoncé, is fast approaching the due date for her much-anticipated twins.
On Sunday, Solange and Beyoncé's mom Tina Knowles posted videos from the "Carter Push Party" on Instagram, causing the Beyhive to officially go on "baby watch." According to Fader, "push parties are similar to baby showers in that they are held to mark the occasion of a mother giving birth to a baby—in this case, twins." And Aunt Solange was reportedly in attendance at the affair.
And what of Solange herself? Does she want kids with her second husband? She hasn't really given any indication either way, but frankly, she seems pretty preoccupied with her career at the moment — and it seems like that's exactly how she likes it. Plus, she has her teenaged son, Daniel Julez, and gets to play auntie to Blue Ivy — and the twins once they're born, too, of course. Ferguson probably enjoys his role as step-dad and uncle as well.
In any case, Knowles appears very happy in her marriage to Ferguson. Essence reported in November that the two tied the knot on November 16, 2014, and have been going strong ever since. Two music videos for songs from her album, "A Seat at the Table," were co-directed by Ferguson, so Knowles and Ferguson work together as well as enjoy married life with one another. By all accounts, they seem like a perfect match.