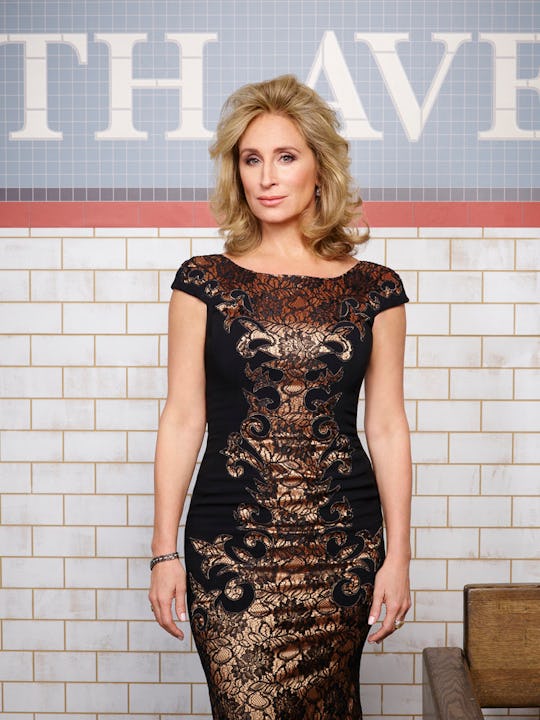 Mathieu Young/Bravo
Is Sonja Morgan Dating? The 'Real Housewives' Star Always Has A Great Time
Relationships are a strong theme this far into the new season of Real Housewives of New York. Everyone has an opinion about Dorinda's boyfriend, John Mahdessian; Luann de Lesseps recently announced her engagement to Thomas D'Agostino Jr.; and Ramona Singer is single and ready to mingle after her divorce from husband Mario. But what one of the most fun Housewives, Lady Morgan? Is Sonja Morgan of Real Housewives of New York dating anyone in particular these days?
Long before anyone was wringing their hands about who Carole Radziwill was dating, Sonja was cozying up to attractive men half her age (and occasionally breaking a tooth on their shirt cuffs). Sonja has never been exactly shy when discussing her sex and romantic life, but unlike some of the other women, hasn't had a steady, long-term relationship in a while. The last time we saw Sonja in a semi-serious relationship was with the infamous Harry Dubin in 2014. Harry is the ex-husband of erstwhile Real Housewife of New York Aviva Drescher, and the relationship with Sonja ended when Harry stranded her at a party by leaving with Luann. Yikes.
Since then, the "original cougar" as Sonja calls herself, has certainly not been sitting at home by herself, but she hasn't found anyone she's ready to settle down with yet, either. In an interview with Life & Style Magazine, Sonja claims to be done with dating younger men. "I'm always dating, but I'm not dating the young guys [anymore]," she told the magazine. "I'm dating serious guys who I think I might have a future with."
Sonja's recent conquests, however, have been both young and old. Most recently, she was seen getting friendly with 22-year-old model and landscaper, Tommy Maksanty, according to Radar Online. Whether the two are simply friends or more is up to Sonja to disclose. But, photos of the two of them from September show them out and about in New York City, which sparked lots of speculation.
The Housewife, who was once married to John Adams Morgan, also dished on Watch What Happens Live last year about her night spent hanging out with Real Housewife of Orange County Adrienne Maloof's ex-husband, Dr. Paul Nassif, the star of his own reality series, Botched. "He's like catnip," she told Andy. While she didn't get explicit with any details on exactly how the pair spent the rest of the night, but she definitely left enough room for speculation.
Since being linked to these two gentlemen, Sonja hasn't been seen with any one guy in particular. But as she emphatically told Life & Style, if such a guy does come along, it will definitely not be Harry. "No more Harry! Harry blew it. [But] Harry and I will always be friends."
While I definitely hope Sonja eventually finds the right guy, as she seems to want to, it looks like at least for the moment she's got other things on her mind. She has a fashion empire to build and recently posted a cheeky cartoon on Instagram, with the caption "Hang in there! It's just Friday. Whole weekend ahead. Seriously though don't wait for a man to make your life. He will find you when U get a life! Love U guys."
Whoever she's dating, Sonja will always be Sonja. And if that's wrong, then I don't want to be right.